New Minister for Bailiesmills church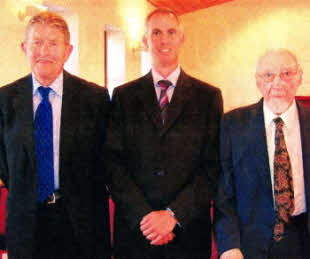 Derek Malcolmson, Rev John Watterson and Alan Silversides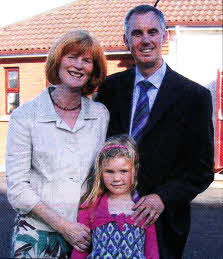 Rev John Watterson, wife Margaret and daughter Lydia
THE Bailiesmills Reformed Presbyterian church building was filled to capacity on Saturday afternoon September 8 for the Ordination and Installation of Mr John Watterson.
A native of Bangor and a member of the Newtownards congregation, he comes to Bailiesmills with his wife Margaret and daughter Lydia.
Prior to three years training for the Christian ministry at the Reformed Theological College he was a lecturer for 13 years at Queen's University in Aerospace Engineering. His wife Margaret grew up in the Boardmills district, trained as a physiotherapist and prior to her marriage served as a missionary in South Africa with Africa Evangelical Fellowship.
Ministers taking part in the Service of Ordination were: David Sutherland, Moderator of Synod (Ballyclare), Robert M McCollum (Newtownards), George McEwen (retired minister Bailiesmills), Geoffrey Allen (Dromara), Knox Hyndman (retired minister Newtownards) and Derek Petrie (Larne).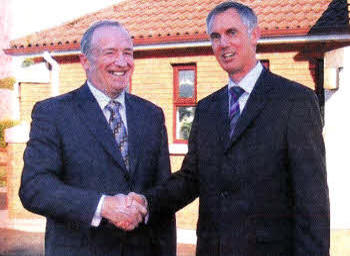 Prof Robert McCollum (Lisburn) welcomes Rev John Watterson
Rev John Watterson is the eigth minister of this Covenanter congregation that dates back to 1807.
At the service two of the former ministers were in attendance - Rev Stewart McMahon and Rev George McEwen. Mrs. Evelyn Richie, wife of the late Rev Jim Richie, minister of the congregation (1969-1974) travelled from Scotland to attend this special day.
At the reception following the service Prof Robert McCollum (Lisburn), who was in charge of the congregation during the vacancy, welcomed Mr Watterson, his wife and daughter to Bailiesmills.
The clerk of session, Derek Malcolmson, spoke on behalf of the congregation and in his speech of welcome said: "The session and congregation are looking forward to this new chapter in our history and believe that with God's blessing we will see Christ honoured and his kingdom extended through the preaching of our new minister."
Rev John Watterson in response to the various speeches at the reception said: "Margaret and I are looking forward to this new stage in our lives as a family in Bailiesmills and will value the prayers of family, friends and the congregation."
Following a delightful afternoon tea the event was concluded with the new minister leading the congregation in prayer.
---
Minister to present lecture at Stormont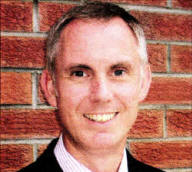 REV John Watterson, new minister of Bailiesmills Reformed Presbyterian Church, is one of the speakers at a Creation Conference to be held at The Pavilion, Stormont on Saturday September 15.
John's background in aerodynamics will be put to good use as he gives an illustrated lecture entitled 'The flight of the birds.
More information on this day conference, hosted by Creation Ministries International, can be found at www.creation.com/CTCT-reg or telephone 0845 6800 264.
Ulster Star
14/09/2012