New Curate welcomed at Christ Church Parish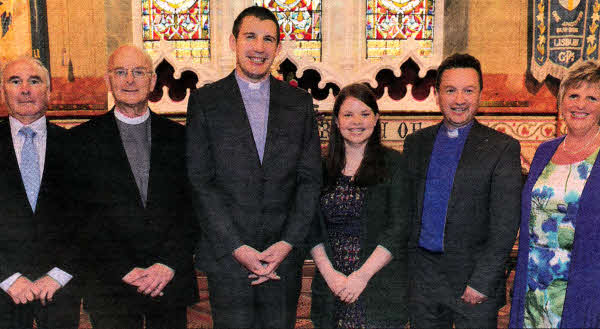 Rev Matthew Milliken pictured at morning worship in Christ Church Parish, Lisburn on Sunday 2nd September where he was welcomed as the new Curate. L to R: Uel Briggs (People's Churchwarden), Rev John Pickering (Senior Minister), Rev Matthew Milliken, Lisa Milliken, Rev Paul Dundas (Rector) and Beth Harris (Rector's Churchwarden).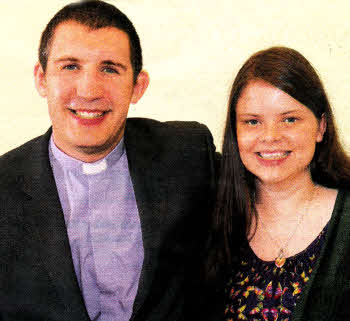 Rev Matthew Milliken, the new Curate of Christ Church Parish, Lisburn, with his wife Lisa.
The Rev Matthew Milliken preached his first sermon as the new Curate of Christ Church Parish, Lisburn on Sunday morning 2nd September, where he was welcomed by the rector, the Rev Paul Dundas.
Matthew is the son of Harry and Sharon Milliken form Comber where as a young man he attended St Mary's Parish Church.
After attending Andrews Memorial Primary School in Comber, Matthew progressed to Grosvenor Grammar School, Belfast and later Liverpool Hope University (2003-2006) where he studied Geography with Sport Science.
He then studied for the ministry at Church of Ireland Theological Institute (2009-2012) where he graduated Masters in Theology.
He spent three years at St Jude's Church, Ormeau Road, Belfast, where he later married his wife Lisa (Edgar) from Ballynahinch in July 2011.
Matthew was Ordained Deacon in Shankill Parish, Lurgan in August 2011 where he served as deacon-intern from September 2011 to August 2012.
At a Service of Ordination in St Anne's Cathedral, Belfast on 12th September, Matthew will be Ordained Priest/ Presbyter for the curacy of Christ Church Parish.
Ulster Star
07/09/2012