Lisburn minister is appointed as the rector of Killinchy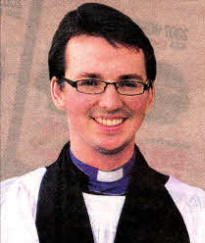 Rev Stanely Gamble
FORMER Lisburn man Rev Stanley Gamble, currently curate assistant of the Parish of Knockbreda has been appointed rector of the parish of Killinchy Union in the Diocese of Down, serving the parishes of Killinchy, Kilmood and Tullynakill.
Stanley, the son of Lisburn couple Stanley (snr) and Oriel Gamble, Ballymacash Road, Lisburn, who are members of St Paul's Parish Church.
As a youth, Stanley (jnr) came under the Christian influence and guidance of the late Rev Dr Canon Kenneth Cochrane and more recently the current rector, the Rev James Carson.
After attending Wallace High School (1993-2006), he went on to Queen's University Belfast where he read modern history and theology for his Bachelor of Arts degree (2000-2003), before graduating with a Master of Theology degree in 2005.
He trained for the ministry at the Church of Ireland Theological College, Trinity College, Dublin (2005-2007) and was ordained in June 2007 for the Curacy of Knockbreda.
During his curacy, Stanley has made a positive contribution to Church of Ireland and Methodist relations, working as a part-time PhD research student under the supervision of Professor Richard Clutterbuck at Edgehill Theological College.
He is a member of the General Synod of the Church of Ireland and sits on the publishing committee of the Association for Promoting Christian Knowledge (APCK).
Stanley also plays an active role in the wider community. He is a member of Standing Committee of the Queen's University Belfast Convocation and in December 2009 he succeeded Rev Gerry Sproule as Grand Chaplain of the Grand Orange Lodge of Ireland.
Stanley is married to former Banbridge woman Sarah (nee Donaldson) and they have a daughter called Grace. The date of the institution has yet to be announced.
Ulster Star
13/07/2012