50 years in Ministry is acknowledged at Seymour Street Methodist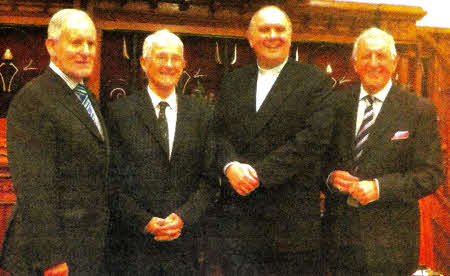 Rev Dr ETI Mawhinney. Rev William L Afford, Rev Brian Anderson (Minister - Seymour Street) and Tom Millar Circuit Steward
A HALF century in the Methodist Ministry was acknowledged in Seymour Street Methodist Church on Sunday evening when Rev William L Alford - a former Minister of Seymour Street - received a presentation to mark this milestone
Paying tribute to Mr Alford a colleague, Rev Dr ETI Mawhinney with whom Mr Alford had trained in Theological College, reflected of the period of service that has been undertaken in many parts of the Country.
In describing a distinguished ministry Dr Mawhinney said Mr Alford was always noted for his pastoral care and support and meticulous preparation for worship.
The presentation took place during a Circuit Service when representatives from Magheragall, Trinity, Broomhedge, Priesthill, Dromore and Seymour Street told something of the work happening in each place. After the service there was a further time of fellowship when the congregation enjoyed refreshments.
Ulster Star
13/01/2012