Appointment to St Patrick's Drumbeg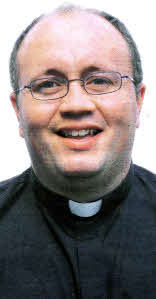 Rev Willie Nixon
THE Revd. Willie Nixon, currently incumbent of the grouped parishes of Killaney and Carryduff, has been appointed as incumbent of the Parish Church of St Patrick, Drumbeg in succession to the Revd. Raymond Devenney who retired in February 2012.
Prior to his institution as rector of Killaney and Carryduff, Rev Nixon was curate-assistant at St Paul's Parish, Lisburn and then curate-assistant at the Parish Church of St Malachy, Hillsborough.
He worked as a church planter alongside Emmanuel Church in the Diocese of Edinburgh before returning to Northern Ireland.
Rev Nixon is a native of Co Fermanagh. He is married to Caroline, a native of Beckenham in Kent, and they have three children - Anna, Alice and Sam.
He will continue as Dean of the Dufferin Area Deanery and as the Church of Ireland Prison Chaplain at Hydebank Wood Women's Prison and Young Offenders Centre.
The provisional date for his Institution as rector of St Patrick's Drumbeg is Friday November 16 at 8.00pm.
Ulster Star
14/09/2012