Former Friends' pupil graduates with Doctorate in Theology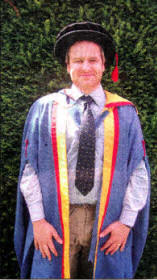 Richard Creighton
FORMER Friends' School pupil Richard Creighton has recently graduated from London School of Theology with a PhD in Theology.
After leaving Friends' in 1993, Richard graduated from Oxford University with a BA (Hon) in Mathematics in 1996 and a PGCE in 1997. He then studied at Moore Theological College Sydney,
Australia where he graduated in 2002 with Bachelor of Divinity (Hon) degree in Theology.
Richard returned to London to take up the role of Pastor at Banstead and Reigate Baptist Churches while also studying for his PhD.
He is currently working as a missionary in Nigeria with his wife Manna and three children. He is lecturing at ECWA Theological Seminary in Kagoro.
Dr. Creighton is the eldest son of Adrian and Lorna Creighton, Soldierstown Road, Moira.
Ulster Star
13/07/2012