Local people to help provide solar powered computers
to blind people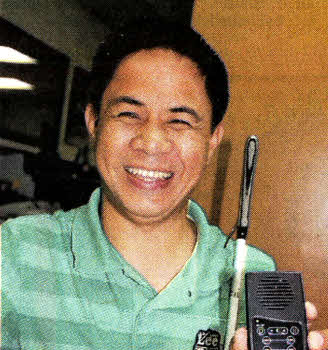 Dong Jampil (pictured), a blind pastor living in the Philippines, was one of the first to receive a MegaVoice player.
LOCAL Christians are being invited to help people who are blind and living in the Philippines to get access to the Bible.
Up to now the high cost of producing Scriptures in Braille has restricted distribution to around 45 languages as each Braille Bible can cost up to £700 to manufacture and transport. The good news is that a hand-held solar-powered MegaVoice player is capable of playing a recording of the complete Bible text but at a fraction of the cost. Each player has raised buttons that an unsighted person can easily touch and, within seconds of receiving one, they can flick through the Bible to the part that they want to listen to. The MegaVoice units are assembled in the city of Tiberias in Galilee and, when supplied in bulk, can cost as little as £25.00 per unit.
Many local churches have Bibles available i in the pew or have the text displayed on a screen. However, for anyone who is blind or partially sighted, these opportunities are beyond reach. The MegaVoice players are a remarkable gift and will enable recipients to hear Scripture in their own language — in this case, Tagalog. The Bible Society in Northern t Ireland is aiming to provide 2,000 of these players in the Philippines during 2012-13.
Anyone who wants to know more about this project, or who wishes to enquire about a
MegaVoice for a local person who has a visual disability, should contact John Doherty at the Bible Society in Northern Ireland, 27 Howard Street Belfast BT1 6NB tel. 9032 6577 or email GSec@bsni.co.uk
Ulster Star
07/09/2012