Special service marks the transformation of old school into church hall

L to R: Rev David Pierce (Rector),Tom Martin (Rector's Warden and former Chairman of the Board of Governors),Wilma Martin (Vestry Secretary and former School Secretary), Daphne Walker (Organist), Paul Haslem, Jacqueline Haslem, Ruby McNair, Coleen Beck, Helen Alexander, Margaret Walsh, David Thompson (Refurbishment Co-ordinator), Marjorie Cushnie (Past Teacher), Olive Nelson, David Tatman and Russell Beck (People's Warden).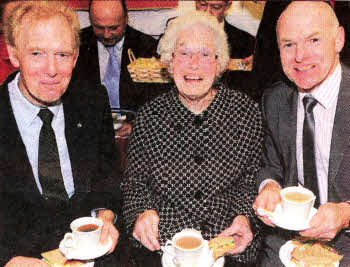 Letty Mulholland, former Caretaker for about 30 years (1955-1985 approx) enjoying a cup of tea with her sons Stephen (left) and Leslie (right). Letty's late husband Samuel was the Church sexton; they once had the privilege of serving as People's and Rector's Churchwardens in the same year.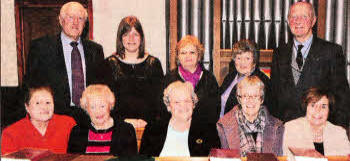 Daphne Walker, Organist, and a joint choir comprising members of the grouped parishes of St James's and St John's, pictured at the Praise and Thanksgiving Service in St James's Parish Church.
A PRAISE and Thanksgiving Service has been held in St James's Parish Church, Lower Kilwarlin to mark the completion of a £25,000 renovation of the former St James's Primary School which has been turned into a church hall.
The 167 year old school has been refurbished with a new kitchen installed into one of the former classrooms as well as disabled toilets.
St James's Primary School closed in September 2003 when it amalgamated with St John's and Maze to form Meadow Bridge Primary School.
The service was led by the rector, the Rev David Pierce. Daphne Walker presided at the organ and together with a joint choir comprising members of the grouped parishes of St James's and St John's, led the congregational praise accompanied by special guest musicians Baillies Mills Accordion Band.
Each hymn was introduced by a member of the parish who gave an interesting brief background about the hymn writer. The band also played a great selection of toe tapping sacred music including, 'There's power in the blood', 'Oh happy day' and 'Love lifted me.
In his address, Mr Pierce spoke of the need to love, share and proclaim the gospel and give God the glory.
In his closing vote of thanks Mr Pierce thanked all who organised, took part and attended the successful and uplifting service.
He thanked all involved in the renovation work and gave a special thanks to David Thompson who co-ordinated the project.
The ladies of the parish served a delightful supper afterwards in the former school, providing the opportunity for past pupils and teachers to recall many happy memories at St James's Primary School.

L to R: Grace Simpson (Classroom Assistant), Gwen Forsythe (Past Teacher), Marie Donnell (Past Principal), Wilma Martin (Former School Secretary) and Joan Shields and Rosemary Greer (Former teachers at St James's now teachers at Meadow Bridge).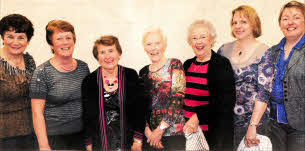 The ladies who prepared and served supper in the new kitchen which was once a classroom. L to R: Coleen Beck, Leslie Thompson, Margaret Walsh, Ruby McNair, Helen Alexander, Charmian Pierce and Olive Nelson.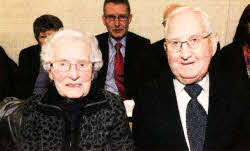 Betty Thompson, a past pupil, enjoying a cup of tea in the renovated St James Primary School with her husband David. The couple were wed in St James's Church in 1951.
Ulster Star
06/04/2012