Tri-Annual Service at Magheragall Parish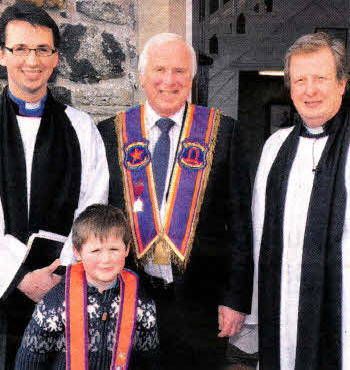 Bro Rev Stanley Gamble (District Chaplain - lisburn RAPC No 6) the preacher at the service and the Rev Nicholas Dark (Magheragall Rector) who led the service. Included are Stanley's father, also called Stanley, a Past District Master of Lisburn RAPC No 6 and his grandson Joel Dawson.
MAGHERAGALL District Royal Arch Purple Chapter No 9 hosted the Ninth Tri-Annual Co Antrim Grand Royal Arch Purple Chapter Service in Magheragall Parish Church recently.
The service was led by the rector, Rev Nicholas Dark and the preacher was Bro Rev Stanley Gamble (District Chaplain - Lisburn District RAPC No 6).
The Scripture lessons were read by Rt Wor Bro John 'Parker (County Grand Master) and Wor Bro Rev David McCartney (Deputy Grand Chaplain & Deputy County Grand Chaplain).
In his address Bro Gamble said that at a time when there is much confusion about the future direction of the Church, we should remember the ancient message of Christianity to love one another.
Preaching from 1st John Chapter 3, he said: "We are called to love one another both by what we say and by what we do. It's not just a matter of 'talking the talk' but of 'walking the walk'. How we treat each other in life speaks volumes about our Christianity."
He concluded by commending the Royal Arch Purple Order for their benevolent fund, which provides valuable charitable assistance, and said that helping those in need was Christianity in action. The offering of over £900 will be donated to this worthy cause.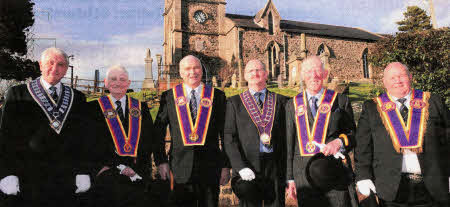 County and Grand Officers pictured against the backdrop of Magheragall Parish Church following the Co Antrim Grand RAPC Tri-Annual Service. L to R: Most Worshipful Bro Norman Bell (Grand Master of the Grand Royal Arch Purple Chapter of Ireland), Wor Bro Thiepval Young (Grand Registrar), Wor Bro Robin Kyle (Grand Lecturer), Rt Wor Bro John Parker (County Grand Master), Wor Bro John Richardson (Grand Treasurer) and Wor Bro Kenneth Hull (Deputy County Grand Master)

Magheragall District Royal Arch Purple Chapter No 9 Colour Party who led the procession. L to R: Bros - Peter Simpson, William Hobson, John Gray, Samuel Gordon and William Dougherty
Ulster Star
27/04/2012