Church team get their walking shoes on for charity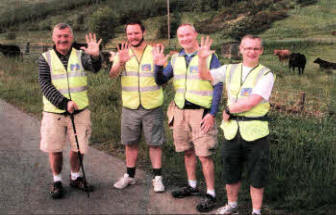 The team from Hillsborough Presbyterian Church in the hills near Oran, south Ayrshire, on the fifth morning of their recent walk from Hillsborough to Glasgow. From left to right are: David Workman, Andrew Conway Assistant Minister at Hillsborough Presbyterian, Jon Henry and Eddie Poots.
A TEAM from Hillsborough Presbyterian Church took plenty of high roads and low roads as they walked from Hillsborough to Glasgow recently to raise funds for the Alzheimer's Society and for a building project in the church.
The group of walkers - David Workman, Andrew Conway, Jon Henry and Eddie Poots - set out with the intention to cover approximately 120 miles over a week on the challenge.
Glasgow was chosen as the destination as many Irish Presbyterian students for the ministry in bygone days used to do their theological training at Glasgow University — and many made the journey there on foot. Andrew Conway, Assistant Minister at Hillsborough Presbyterian commented:
"It now gives me great pleasure to say that the walk has happened. The total distance turned out to be 134 miles. The scenery was often breathtaking, the `craic' was mighty, and the support we received both from friends and strangers was overwhelming.
"Spiritually speaking, it was a poignant occasion for us to finish our week with a service of worship at Glasgow University.
"Sadly work commitments prevented one team member from travelling to Scotland with us, but other than that the entire experience was much more enjoyable than we had dared hope."
He added: "On the financial front, things have also been very encouraging. To date our official figure stands at approximately £6000. Some sponsor forms are' yet to be returned, so we're optimistic that the final figure will be in excess of £8000.
"All in all, this walk has been a deeply beneficial venture for us, and I would like to say a very public thank you to all those who helped, supported and/or sponsored us."
Ulster Star
13/07/2012