"We Shall Not Be Silent"
Saturday 23rd of June 2012, 10am to 4pm
Kingdom Life Conference Centre, Lisburn. (down the alley facing river island)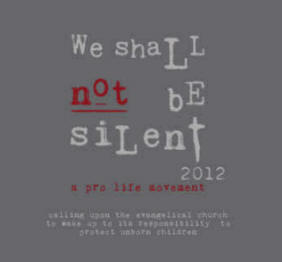 Our mission is simple. "We Shall Not Be Silent" exists to raise awareness of the Pro Life position amongst evangelical Christians in Northern Ireland. It's aim is to provide the training and equipping needed to be an active voice on the issue of abortion and the destruction of unborn life. Abortion is by far the greatest human rights issue of our day with approx. 46 million babies slaughtered every year worldwide, this works out at around one abortion every 2.5 seconds. These statistics should cause us great concern though sadly the fact that these figures even exist is evidence that we have done next to nothing to stop this holocaust on our doorsteps. Now is the time for a renewed burden for the unborn. God's heart is grieving that so many million children have been destroyed because of nothing more than convenience and choice. Now is the time for a Pro Life revolution
Speakers at the event include: Dr. Stephen Rodgers, pastor of Kingsway Church Dunmurry and local GP.
Bernadette Smyth, founder and director of Precious Life and Stephen Brown of the Way Forward Ministries.
Come to Life Drama Ministries under the leader of Darran Gilmore will provide dramas through out the conference.
Ulster Star
30/04/2012