LOCAL HISTORY BOOK THAT STRUCK A CHORD IN CANADA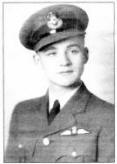 Canadian airman Maurice John William Aspinall who died in an air crash in July 1943
A LOCAL history published by the Lower Maze Community group has been so successful they are holding a meeting to discuss whether there should be a second volume.
`As It Was' has proved to be hugely successful with interest right across the world. Now the Lower Maze group, who collected information and memorabilia for the publication, are to hold a meeting to find out what local people want to do with the items which have so far been unused.
One of those who helped compile the book, Jackie McQuillan, said there was still a wealth of information and photographic history which has been left untouched. And he said they would like people to come along to next week's meeting in the Lower Maze Community hall on November 17 at 7pm.
"We hope to explore the idea of a future publication or at least decide which road we should take in this respect" he said.
"As well as the discussions it will also be a social event where we can meet friends and neighbours and enjoy a bit of craic."
Following the publication of 'As It Was' Jackie and co-author Pearl Finn received photographs from the family of a Canadian airman, based in Long Kesh, who was killed during the Second World War and was mentioned in the book.
Maurice John William Aspinall was killed during a training session.
His niece went got in contact with the Ulster Aviation Society and Eglantine Church who in turn sent her the book.
In return she and her father sent pictures of Mr Aspinall and his funeral.
William Aspinall was just 22 when he was killed on July 23, 1943. He lived in Stratford, Onatario.
Two others were killed in the same crash - Sergeant Reginald Douglas Eaglen who was 21 and from Essex and Flight Sergeant Alan Gilchrist Potter (30) from Prospect, South Australia.
The funeral procession held at Eglantine. All three men from Canada, Australia and England were all based at Long Kesh and perished in an air crash accident during World War Two
In a letter the brother of Mr Aspinall thanked those for sending him the book which contained information on his brother.
"I am very honoured that the Aspinall name was included in your article on the operations carried out at Long Kesh and the tragedy of my brother Bill," he wrote. Walter's daughter Jane Rhair also wrote thanking them for a copy of the book.
"It is apparent that there is a lot of civic pride and many warm hearts in the Long Kesh area," she wrote.
Now information is being sought to trace the relatives of the two other airmen who were killed in the crash.
It's just one of the items to be discussed on Wednesday night. Anyone who would like more information is asked to contact Jackie McQuillan on (44) 2892-683520.
31/12/2004