ANOTHER GOOD DAY AT THE OFFICE FOR LISBURN SCHOOLBOY
GOLDEN GLOBE AWARD IS LATEST TRIUMPH FOR PRODUCER OF SMASH HIT PROGRAMME
by JAKKI BLACK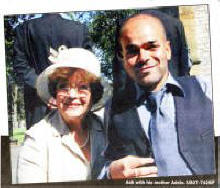 IT'S being feted as one of TV's greatest ever comedies - and it's produced by a former Lisburn schoolboy.
Ash Atalla, an ex-pupil of Fleming Fulton and a resident of Monaville in Lisburn, has established a reputation as one of Britain's best comedy producers after playing a leading role in the creation of The Office.
Already established as a classic on the BBC with the highest ever DVD sales for a TV show, The Office enjoyed unprecedented American success with two successes in the Golden Globe Awards.
To win the Best Television Series award, The Office saw off competition from established programmes numbers like 'Sex in the City' and 'Will and Grace'.
It was the first time a British show has won such an accolade while Rick Gervais became the first British actor to win the Best TV comedy actor.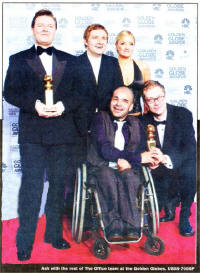 It was a sweet moment for Ash (31) who had always shown great determination to achieve his goals. He excelled in all his studies at Fleming Fulton before moving to a college in Hampshire when he was 11.
His achievements are, not surprisingly, a source of delight for his parents.
Ash's mother Adele said: "Ash is and always has been a real character. When we lived in Lisburn he was well known to the residents in the areas wheelchairs were not really as common a sight as they are now and buildings were not as wheelchair friendly," she explained.
"However Ash was very mobile and independent. From an early age it was obvious that nothing would stand in his way."
The family have fond memories of Lisburn. "We loved the area, the people and their sense of humour and wonderful sense of community," continued Adele.
"As a family we made great friends there whom we still stay in contact with even though we now live in Fleet, just outside Aldershot."
Ursula McKee, a close family friend who worked in the Lagan Valley Hospital for many years with Ash's father, said locals who know the family were thrilled to see Ash's career take off. "I am delighted that Ash is doing so well" she said.
"He was always such a character. I didn't even know what 'The Office' was until I heard my own children talking about it.
The first time I watched it, I thought it was an actual real office situation because it was so well done. It is very funny, very clever. You can see Ash's sense of humour in the underlying dialogue," she added.
"Adele and myself keep in regular contact and she told me that when Ash was flying home from the Golden Globe Award ceremony the pilot announced that he was proud to be flying members of the winning Office team back to London.
"People applauded and someone turned to Ash and said, "Isn't that just wonderful, I wonder where they are, I'd love to meet them.
"Ash just smiled, that just about sums him up."
20/02/2004