HUNDREDS SAY THEIR GOODBYE TO `AUNTY IRIS'
Large turnout for funeral of much loved Lisburn woman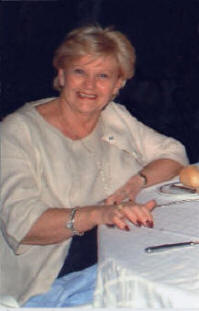 THERE was a huge turnout at Railway Street Presbyterian Church on Wednesday for the funeral of Mrs. Iris McCall who was known to many people in Lisburn as `Aunty Iris'.
Mrs. McCall, who founded the city's branch of Leukaemia Research 25 years ago, passed away on Sunday at the age of 67 after battling for some time against a brain tumour.
She is survived by her husband Colin, the proprietor of local construction company Harmony Homes, sons Simon and Timothy and daughter Janice.
She will also-be sadly missed by her 11 much loved grandchildren who knew her simply as 'Nanny'. However, grief at her passing extended well beyond her immediate family circle.
Her kindness towards others and her concern for anyone facing difficulties earned her the title 'the district nurse' among those who knew her well, "She was never off the trot and visited people every week," her husband Colin recalled.
"She would actually say 'I haven't been down to see so and so for some time' and she would go that very afternoon."
Mrs. McCall was born in the Longstone Street area. She was a member of the Collins family who are also well known in the Lisburn business community
Her parents Isaac and Doreen owned a grocery store on the site of the current Niagara hot food outlet and she went into the family business after leaving Methodist College in Belfast
She and her husband first met on St Patrick's Day 1954 at a dance in 'Verney's', a club which was based on the first floor of the Assembly Buildings (now the Museum and Irish Linen Centre).
"Iris held the number one membership card for the club," explained Mr. McCall.
The young couple were married in 1958 and set up home in a bungalow built by Mr. McCall at Pond Park Road.
A number of house moves followed until they settled at 'Silver Birches' on Waterloo Road which is still the family home.
The McCall family is well known in Lisburn's commercial life.
Harmony Homes is one of Northern Ireland's most respected building firms.
Mrs. McCall's father in law Mr. John F. McCall was responsible for building a number of developments in the Lisburn area including Harmony Heights and homes at Carnreagh. Many local families booked their annual holidays at McCalls Travel Agency in Market Square.
However, for a period Mrs. McCall operated a business of her own along with a partner.
"It was called `Commercial Plants' and they supplied large plants for complexes such as the Park Centre and Castlecourt," said Mr. McCall.
"Indeed, they used to import plants from Hong Kong for many of their clients."
Following Wednesday's service at Railway Street Mrs.-McCall was laid to rest at Blaris.
Warm tribute paid by research group,
THE Lisburn branch of the Northern Ireland Leukaemia Research Fund paid a warm tribute to Mrs. McCall, who was its founder.
Chairperson Irene Richer recalled how Iris decided to raise funds for Research into the disease after her niece Gail Stronge (nee Collins) was diagnosed 25 years ago.
"Iris decided to do something positive. She formed the Lisburn branch and gave it her everything," she said.
"Indeed, during her illness she was still very much involved. Her enthusiasm and drive will be sorely missed.
"Our sympathy goes out to her devoted husband Colin, her daughter Janice, sons Simon and Timothy and all the family circle."
A Celebration of the life of

IRIS EVA CATHERINE McCALL

1936-2004



18th FEBRUARY 2004

Officiating Ministers

REV. B. GIBSON
REV DR. H. CROMIE

MUM

You always had a happy face
I never saw you frown.
Were always there to pick me up
Whenever I was down.

You always cared for others
Put their needs before your own.
Made any guest feel welcome
You made them feel at home.

Christmastime you loved the best.
It twinkled in your eyes.
Like "Mrs Claus" You'd dress the house.
Feed all Sherry and Mince Pies.

The first to surface every day.
You loved the morning sun.
I never could be prouder
To have you for my mum.

"THE CHILDREN"

Interment After The Service Will Take Place
In Lisburn New Cemetery Blaris Extension.

The Family Request That In Lieu Of Floral Tributes Donations May Be Sent If Desired To
LEUKAEMIA RESEARCH LISBURN BRANCH
c/o Ronnie Thompson funeral Director
20 Ballinderry Road, Lisburn, BT28 1UF.

The Family Wish To Thank Everyone Who Has

Taken The Time To Be With Them Today And Invite You To Join With Them For Refreshments In Railway Street Presbyterian Church Hall
PRAISE
O Perfect Love

O perfect Love, all human thought
transcending,
Lowly we kneel in prayer
before Your throne,
That theirs may be the love
which knows no ending,
Whom You for evermore
now join as one.

O perfect Life,
Be now their full assurance
Of tender charity,
and steadfast faith,
Of patient hope,
and quiet brave endurance,
With childlike trust that fears
nor pain nor death.

Grant them the joy
which brightens earthly sorrow;
Grant them the peace
which calms all earthly strife;
And to life's day
the glorious unknown morrow
That dawns upon eternal love and life.

SCRIPTURE READINGS
Psalm 121 & John 14

SOLO - BE STILL
Miss Jill Patterson

TRIBUTE

PRAYER

PRAISE
The Lord's My Shepherd

The Lord's my Shepherd, I'll not want;
He makes me down to lie
In pastures green; He leadeth me
The quiet waters by.

My soul he doth restore again;
And me to walk doth make
Within the paths of righteousness,
E'en for His own name's sake.

Yea, though I walk in death's dark vale,
Yet will I fear none ill;
For Thou art with me; and thy rod
And staff me comfort still.

My table Thou hast furnished
In presence of my foes;
My head thou dost with oil anoint
And my cup overflows.

Goodness and mercy all my life
Shall surely follow me,
And in God's house for evermore
My dwelling - place shall be.

BENEDICTION
20/02/2004