BALLYCARRICKMADDY TO PRODUCE BOOK
BALLYCARRICKMADDY TO PRODUCE BOOK OF MEMORIES AS PUPILS PREPARE FOR MOVE
A time for looking forward but also glancing back
by Neil Greenlees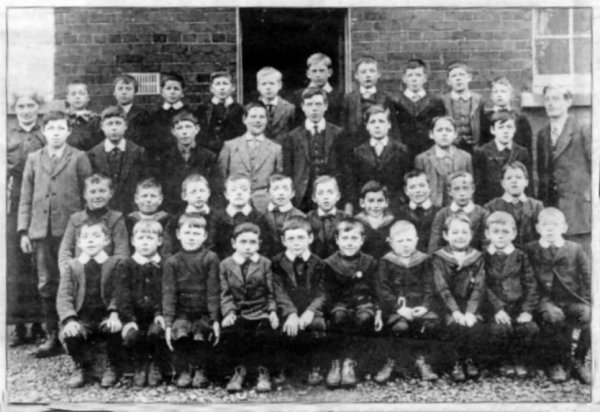 The teachers at Ballycarrickmaddy School in 1916 Mr. Lamont and Miss Begley with some of the pupils they taught -
John Quinn, Joe McCorry, David Belshaw, Tom McComb, David Mairs, Norman Spence, Norman Stitt, Cecil Brown, George Mairs, John Totten, George McCullough, William Stitt, William Thompson, Jack McKinstry, Harry McComb, Albert Gill, Kenneth Anderson, Jacob McCullough, William McCleery, William Wright, Eddie Connor, Tom Wright, Ben Murphy, Sam Martin, David Armstrong, Sam McMurtry, Joe Abbott, Thomas Mairs, Jim McCleery, Charlie Johnston, Bertie Higginson, Sam Larmour, Joe Martin, Jimmy Dawson, William Quinn, Ned Murphy, David Benson, Sanders Thompson. The school was also attended by girls but apparently in those days the two sexes were kept apart.
THE move next month by Ballycarrickmaddy Primary School to a new purpose built building will be very much a time for staff and pupils to look forward.
However, just like any house move, the final weeks in the present building are also a time for looking back.
In the case of Ballycarrickmaddy this retrospective view stretches for around 100 years - far beyond the recall of any members of staff no matter what some of their young charges may think.
So to mark the occasion, the school's Parent Teacher Association has decided to produce a 'book of memories' of past times at School Lane.
With a history going back to the beginning of the 20th century it's unlikely any of the first generation of pupils to attend the school are still around.
Hoped
However, it is hoped at least some of the children educated at Ballycarrickmaddy during the first half of the last century will be able to make a contribution.
The photograph accompanying this story shows pupils at the school in 1916.
Their largely rural lifestyle would no doubt have been very different from that of their present day counterparts.
In those days there were no tractors and motor cars were a privilege enjoyed only by the wealthy.
Instead, most farming involved a great deal of hard physical work and relied greatly on horse drawn transport.
Yet, even as the picture was being taken some of the most horrendous battles in European history were being fought in France and Belgium and it is likely many of the pupils pictured would have had at least one family member involved in these.
On a more local note, events leading to the partition of Ireland were just beginning with the Easter Rising in Dublin.
Boys
Any of the young boys pictured who are still alive will now be in their 90's and have lived through many more momentous times.
However, age is no barrier to a clear mind and is often a guarantee of an interesting tale or two.
If you're included in the picture or attended Ballycarrickmaddy at some stage and would like to have your memories of the school recorded for posterity why not attend the open evening on Wednesday December 19 which will run from 7.00 to 9.00pm and include a light supper.
The event will provide an opportunity for a final look around the building and also a chance to write down recollections for inclusion in the book.
There's also the chance you'll meet someone you went to school with, providing a fantastic opportunity for a trip down memory lane.