DELIGHT AS BELL BECOMES FIRST MAYOR OF TWO CITIES
BY ALISTAIR BUSHE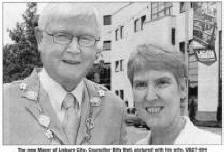 NEW Lisburn Mayor Billy Bell spoke of his delight after he was unanimously elected to the position at the council's annual general meeting at Lagan Valley Island last week.
The Ulster Unionist councillor, who was Lord Mayor of Belfast two decades ago, created history by becoming the first ever man to be Mayor of two different cities.
He was elected last Thursday alongside new DUP Deputy, Councillor Cecil Calvert.
Following his election Mr. Bell expressed thanks to the council and his predecessor Councillor Betty Campbell.
"I was very pleased that I was elected unanimously and I would like to thank my proposer and seconder Ivan Davis and Harry Lewis for their kind words and all the other councillors for their support here today," he said.
"I would also thank Betty Campbell, who has done an excellent job for this city as its first elected Mayor. She worked in a quiet and dignified manner and wherever she has gone she has tried to promote the best interests of Lisburn city."
Throughout his year as Deputy Mayor, Mr. Bell said Mrs. Campbell had co-operated with him in an 'exemplary manner'.
Mr. Bell also stressed that although he was a 'native' of Belfast, Lisburn was very much now his home and had been for the past 33 years.
He related how during his earlier life in Belfast the city had been in a 'very bad way' with people being killed every day and bombs exploding in the street. Mr. Bell explained he had helped get Belfast 'back back on its feet' again. However, this was a big contrast with Lisburn which he said was a 'broad and representative' city.
Congratulations for Lisburn's progress in recent years was due to the city council and formerly the borough council, he insisted.
"All the improvements we see in Lisburn are, in my opinion, due to the city council," he said. "It would be my intention to promote Lisburn and advance the interests of this city wherever I go. I'm thankful to you all for giving me the opportunity to do all that."
In proposing Mr. Bell for the position of Mayor, his Ulster Unionist colleague Alderman Ivan Davis said he was bringing 'years and years of experience' to the job.
Calvert expresses his joy with deputy post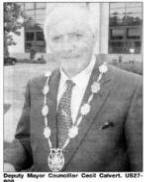 LAST Thursday was welcomed as 'a long overdue day' by the DUP in Lisburn as its long-serving Councillor, Cecil Calvert, was elected Deputy Mayor of the city.
Mr. Calvert's election made him the first DUP Lisburn Deputy Mayor since Councillor Charles Poots, who held the position between 1991 and 1993. Speaking after his successful nomination to the post, Mr. Calvert said he was 'shocked' but 'honoured' to become Deputy Mayor.
He was elected after councillors voted by 20 votes to six for him in preference to Independent Councillor Ronnie Crawford.
Honoured
Mr. Calvert thanked his party colleagues in the DUP for nominating him and expressed his excitement about the year ahead.
"I feel very honoured and I hope I will do a good job" he said.
"I would thank everyone for their support. This is an immense job and I know there will be difficulties along the road.
"I'm looking forward to working with the Mayor. We will be doing our best and that's all anyone can do." Mr. Calvert was also quick to thank the people of his Killultagh ward, who have elected him to the Council for the last 18 years.
"I would accept this office on their behalf and would thank my family for all their support," he added. The DUP group leader on Lisburn Council, Councillor Edwin Poots, said his party colleague richly deserved the position.
Entitled
He also stressed the DUP 'were entitled' to the Deputy Mayor's post, pointing out the party had not held a Mayorship since Billy Belshaw in 1983.
"Cecil is an extremely hard constituency worker and the vote he gets reflects that every time he stands for election," he said.
"There is a joke on this council about Cecil and the 13101 but the fact is that he gets his teeth into things and he will not let go until he gets the matter resolved."
Mr. Crawford's nomination for Deputy Mayor was proposed by his fellow independent Councillor Gary McMichael, who predicted he would make 'an excellent Deputy Mayor'.
Mr. McMichael's nomination was seconded by Sinn Fein's Paul Butler, who said Mr. Crawford had 'put out the hand of friendship' to all political parties in Lisburn Council.
Stoneyford DUP congratulate deputy mayor
STONEYFORD Branch of the Democratic Unionist Party congratulate Branch Chairman Councillor Cecil Calvert on his election to Deputy Mayor of Lisburn City Council.
They feel this is worthy recognition for nearly 20 years of faithful and dedicated service as a councillor in the Killultagh and Lagan Valley areas.
A spokesperson for the party commented: "He has been a stalwart for our party and our leader Dr Ian Paisley since the formation of the party 32 years ago.
"We also wish councillors Edwin Pouts and Jim Tinsley every success in their new roles as Chairmen of Planning and Environmental Services.'
04/06/2003