BERTIE HUMPHREYS LAID TO REST ONE YEAR AFTER HIS SON
Community mourns death of well known Lisburn man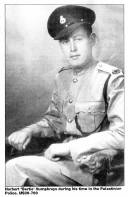 THE grief of a Lisburn man's family as they laid him to rest last week was even more acute because they did so exactly one year after the funeral of his son.
Herbert (Bertie) Humphreys from Woodland Court passed away peacefully in hospital on September 10 at the age of 78.
His funeral service was held last Wednesday at Lisburn Methodist Church and was followed by a private committal at Blaris New Cemetery's new extension. This took place 12 months to the day since he and his wife May gathered with other family members to say goodbye to their son John who passed away last September after a brave battle against serious illness.
Bertie's family came originally from the Poyntzpass area of Co. Armagh where his father was stationmaster.
Tonagh
They settled at 'The Green' in the Tonagh area 56 years ago - three years after he joined the Palestinian Police Force at the age of just 19.
He rose to the rank of Sergeant but came back to Northern Ireland when the British connection with Palestine ended.
Subsequently, he joined the Irish Guards and became a Corporal.
It was during his time in the army he met May, a Londoner, whom he first spoke to when he stopped her in the street to ask directions.
Married
The couple were married in 1950 but in 1953 he was injured in an accident involving an army jeep and was pensioned off.
He and May came back to Lisburn and set up home initially at Killowen Crescent before moving to Derriaghy Road.
Bertie then started a jute business manufacturing sacks and bags
This was based at Market Place, just beside the premises currently occupied by Lindsay Cars.
He was also co-owner of Lambeg Stadium when it was a venue for both harness racing and show jumping.
Equestrian
He was well known in equestrian circles and his daughter Angela achieved success at both Clarenorris and the Royal Dublin Society.
Bertie accompanied her to all the events in which she competed.
As well as May, he is survived by Angela, his son in law Ivan and two brothers and sisters - Derek, Mervyn, Aileen and Norah.
His passing is also mourned by his wider family circle of grandchildren, nieces and nephews.
24/09/2004