BETTER A RED FACE THAN A RED ROSE FOR A BELOVED CHILD
How a mother's instinct saved her son from meningitis
by JAKKI BLACK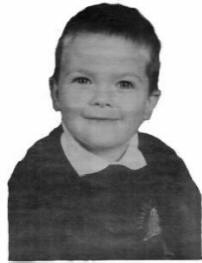 TIFFANY Turner lives in Derriaghy with her husband Derek and two children, Anthony 4 and Beth 7
She is an auxiliary nurse in Belfast City Hospital and successfully juggles family life with the demands of school runs, lunches and homeworks.
Tiffany however gives thanks every day that she still has two children to care for, because Easter 2001 nearly left the Turner family in tatters as meningitis took the then two year old Anthony into its fierce grip.
"I remember the whole scene as if it only happened yesterday,' said Tiffany.
"It was Easter Tuesday. Tony woke tip that morning with a very high temperature accompanied by a piercing cry.
"I immediately took him to the doctor, a mother's instinct told me that things were not as they should be.
"I was told that Tony had a virus and I was over anxious mother. I just needed to get some antibiotics for my toddler and a cup of tea to calm myself down," recalled Tiffany.
As it was the Easter Holidays not many shops were open in Lisburn but she was able to run into a pharmacy quickly leaving the child in the car.
"I returned to the car for some reason and I turned round to see Tony smiling at me then, within seconds, he was fitting."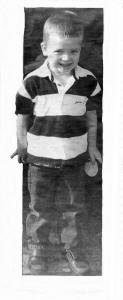 "I immediately drove him to the City Hospital and later he was transferred to the Royal for observation. His temperature had been so high that it had caused the seizure.
" Tiffany returned home to change, freshen up, tell Derek what was happening and make sure Beth was okay before going back to the hospital.
"When I returned to Tony's bedside I noticed he had three little spots. With all the media coverage of meningitis and the fact that one of the first signs was a rash I knew that action had to be taken immediately to save Tony's life. They were quite small spots that could have quite went unnoticed. However Tony was in the right place at the right time.
"He was immediately taken into intensive care high where drips, antibiotics etc. were pumped into his system.
"Derek, Beth and myself had to take antibiotics ourselves to protect us from the disease, as it was the dangerous bacterial meningitis.
Symptoms include a stiff neck, fever and headache. Nausea may also be experienced, sleepiness and an aversion to bright lights. These signs may show themselves in just a few hours, or they may take one to two days to develop.
"The meningococcal that Tony had was treated correctly by the hospital staff to whom Derek and myself are truly grateful, " said Tiffany.
Tony now attends the I-can Early Centre in Ballynahinch Nursery Unit. A few months, after the little boy's terrible encounter with meningitis he was diagnosed as being autistic.
"Autism is a lifelong development condition that affects the way person communicates and relates to other people" Tiffany explained.
"Tony has difficulty with his speech, he finds it difficult to communicate and lives in his own little world. His sleep is often disturbed and we are constantly watching what he is up to because he has just no perception of danger.
"Beth has taken it all very well for a child so young, Derek , and I are very proud of her, she understands that Tony needs a lot of our time and attention but she never complains.
We are not sure what causes Tony's autism. It is generally agreed that it is related to problems with brain development. This can be caused before, during or after birth. Whatever the cause we can live with our son's autism. When we look back and realise how we nearly lost him so quickly it sends shivers down my spine," Said Tiffany.
"I would urge all parents if they know their children are ill go on your instincts. Waste no time in getting them the correct medical attention. If it turns out to be something trivial then so what? Better a red face, than a red rose for the child you could lose through not wanting to bother medical staff."
07/02/2003