BYGONE MASTERS OF NATURAL HISTORY
by C. Douglas Deane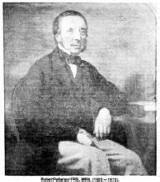 Robert Patterson FRS., MRIA. (1802 --1872).
KNOWLEDGE of Northern Ireland's wildlife, its plants and animals, owe much to the keen interests of amateur naturalists of a century and more ago, men who took time off a busy business life to investigate the local wildlife
It; was age of discovery made possible and stimulated by ease of railway travel and birth of ----- historic societies. ------ these early naturalists specialised in any one object or group and collected almost any thing and sometimes everything..
Yet their discoveries form the building stones for the mass of information available today, and some achieved national acclaim for their work.
There was John Templeton (1766-1825). our 'first' naturalist. who discovered some 40 species of plants not before recorded in Northern Ireland, and who achieved considerable reputation as a botanist, so much so that the great Sir Joseph Banks offered his money and land to collect plants in New Holland (Australia).
'It was an age of discovery'
Yet he was more than a naturalist, he was a farmer, a gardener and horticulturalist, a sympathiser for the '98' and friend of Thomas Russell, who accompanied him on a trip to Rathlin Island about 1794, Russell was finally hanged outside Downpatrick jail in 1803.
There was William Thompson (1805-1852), linen merchant, who If, attempted to write a complete natural history of Ireland but died after the publication of three volumes on birds. And there was more.
Samuel Stewart (1826-1910), trunkmaker, ' William Swanston. (1841-1932), linen merchant, Joseph Wright (1834-1923), grocer, and Robert Bell (1864-1934), shipyard riveter.
The incentive for collecting stimulated these early amateur naturalists and many a middle-class - drawing room was cluttered with cabinets of shells. butterflies, beetles. rocks and topped with domed cases of stuffed birds.
Some men became 'magpie' collectors like Rev Canon Grainger (1830-1891), Rector of Broughshane. whose enormous collection of many thousands of specimens ranging from a fair sized dolmen to weapons of war from New Zealand,' was presented to the Belfast Corporation shortly before his death. Strangely enough a sizable number of men of the cloth were amateur naturalists, but almost all were of the Protestant faith, the Catholic Clergy being more interested in grievances on land reform than nature. There was Canon Lett (1836-1920), botanist, Rev W. F Johnston (1852-1934), entomologist, and Rev George Robinson (1821-1893), among a host .of others.
It may be that every Victorian clergyman harboured secret ambitions to write a natural history of his own parish and become another Gibert White.
But of all 19th century businessmen who were amateur naturalists, few contributed more than the Patterson family, mill furnishers of High Street and Bridge Street, Belfast, and whose name still appears over a hardware shop in Ann Street.
The Pattersons were of Scottish Plantation stock, who settled around Coleraine in the first decade of the 17th century, and it was one. Robert Patterson (1750-1831), who set up a mill furnishing business in Belfast in 1786, who was the springboard for a century of naturalists in the family.
His eldest son, Robert Patterson (1802-1872), being the first to achieve acclaim as a naturalist. He was educated, as were most of his generation, first at the Belfast Academy under the direction of the great Dr Bryce. and then at the Belfast Academical Institution, where he was one of the first pupils, and from where he won a prize for an essay on Lough Neagh.
From an early age he was attracted to the natural sciences as well as literature, and was wont to quote long passages from Shakespeare whilst shaving, though natural history remained the chief intellectual pursuit in his life.
When his father died in 1831, he took over management of the mill furnishing business, which he had entered as a apprentice, some years before, and found time to marry Mary Ferrar. one of whose ancestors came to Ireland as captain in Schomburg's Horse. The newly-weds settled at No 3 College Square North, where most of his 11 children were born.
At the age of 19 Robert was one of seven young men who, on June 5, 1821, gathered at the house of Dr James Lawson Drummond, at No 5, Chichester Street, a house long since disappeared, and formed themselves into The Belfast Natural History Society. Which, within a decade, had erected the first museum in Ireland to be built by public subscription, at No 7 College Square North.
Today both society and ' building still exist, though neither are no longer young or eager.
Robert Patterson served the Belfast Natural History Society for more than half a century, occupying every office and was the recipient, first of a silver cup (1834), and an illuminated address (1871), for his services.
He was also a member of The Belfast Literary Society and published a number of books, 'Insects Mentioned in Shakespeare's Plays' (1838 which is a rare and valuable commodity today, and 'Zoology for Schools' (1846-48). For the Department of Science and Art, he prepared a series of large coloured diagrams, drawn by such eminent artists as Joseph Wolf and others, both of which were used by the educational authorities in Britain and Ireland.
Although he wrote a number of papers for scientific journals and gave innumerable lectures, one finds little in his writings to tell us about the man himself.
There are no descriptions or field notes on his collecting trips and one gets the impression that Robert Patterson was more of a 'closet' naturalist than a field worker. He was on friendly terms with the great naturalists of his day, Darwin, Bell, Forbes. Yarrell and Prince Bonaparte, and he became an early member of the British Association, serving as secretary to the Natural History section for some years.
He edited the fourth volume of Thompson's 'Natural History of Ireland,' which was published in 1856, four years after Thompson's death, yet found time .to. take his place in civic affairs being elected to the board of the Belfast Harbour Commissioners and the council of the Belfast Corporation.
Robert Patterson was a quiet man who never sought privilege, but the Royal .Irish Academy made him a member in 1856, and the eminent Royal Society elected him a Fellow in 1856. All of which shows that Robert Patterson. a FRS. MRIA, was no ordinary naturalist, and he died at this house in College Square North, in February, 1879, after a fall.
Of Robert Patterson's 11 children none quite reached the heights of acclaim or had the interests of their father.
His eldest son, William Hugh Patterson (18351918), inherited his father's love for literature as well as natural history, and was one of the foundation members of the Belfast Naturalists Field club, formed 1863, and went collecting on their excursions.
He was very interested in local dialect, and wrote two books on the subject, one of which was titled 'A Glossary of Words in Use in the Counties of Antrim and Down (1880), a rich harvest of words and phrases used in Ulster. 'As blunt as a beetle,' refers to a wooden mallet used for mashing potatoes, 'As hungry as a grew' (greyhound), 'As thick as bog-butter.' Said of a mean person, 'He would steal the cross of an ass, 'He would skin a flea for the hide and tallow.' There is all this and more in this wholly delightful book
'Quiet man who never sought privilege'
Finally, a daughter of Robert Patterson, Marie. married William E Praeger, of Holywood, and was the mother of Robert Lloyd Praeger (1865-1953), who became Ireland's premier botonist, and 'bestrode Ireland's natural history like a colossus for more than half a century, and his equally famous sister, Sophia Rosamund, whose work as a sculptor became famous.
Robert Patterson's second son, Robert Lloyd Patterson (1836-1906), became a linen merchant and served the Belfast Chamber of Commerce so well he was awarded a knighthood in 1902.
Yet he found time to investigate the wildlife of Belfast Lough, which led to the publication of 'The Birds. Fishes and Cetacea' of Belfast Lough' (1880), still available in some shops.
He was also a yachtsman and wildfowler of no mean ability, and to show his extraordinary width of interests, formed a collection of modern art, which he bequeathed to the Belfast Corporation, together with £60,000, for its exhibition.
He lived and died at his home, Croft House, Holywood, in January, 1906. And lastly from a natural history interest, there was one more Robert Patterson (1863-1931), son of Richard Patterson, and grandson of Robert Patterson, FRS, who was a naturalist and helped Professor Gregg Wilson, of QUB, to start the 'Ulster Fisheries and Biology Association (1903), and became secretary for some years, as well as assistant editor of the old Irish Naturalist.
He was actively connected with local natural history societies and wrote a nature column for the -old Northern Whig. He organised a public exhibition of his natural history. Collection, which became known as the 'Patterson Museum,' and sited in the oonegal Road :Public Library before being handed over to the Belfast Corporation in 1926.
These then are some of the men whose research formed the basis for our present knowledge, inadequate though it still is, and of just how one family influenced the course of the natural sciences down the years.