SADNESS AT DEATH OF WELL KNOWN CONSERVATIONIST
WARM TRIBUTES PAID TO BENSON STREET MAN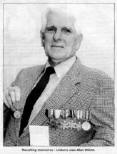 Mr. Alan Gardiner Elliott (79), a founder member of the Lisburn Conservation Society, who lived at Benson Street was well known in the area for his deep interest in the natural world.
He died last Wednesday after a short illness and news of his passing broken by Alderman Ivan Davis was greeted with sadness at that evening's meeting of Lisburn Council where he was remembered in the prayers of the Mayor's Chaplain Father Sean Rogan.
This week Mr. Davis paid his own tribute to Mr. Elliott, describing him as someone who 'epitomised' what community involvement was all about.
He also spoke of his great interest in people and said his sincerity always 'shone through'. Tributes paid to him at last Friday's service of thanksgiving for his life showed his 'total commitment', Mr. Davis added.
The well attended service took place at Christ Church.
Mourners were led by the Elliott family and included his many friends from both the Conservation Society and Voluntary Service Lisburn.
Village
A native of Co. Fermanagh, Mr. Elliott was born on April 28, 1923 in the village of Brookeborough where his parents John and Christine owned a shop. He had two brothers and two sisters and was educated at Portora in Enniskillen.
After leaving school he worked for the Marconi Company in Belfast where he took a wireless operator's course.
He joined the Merchant Navy as the Second World War was beginning and last September told the Ulster Star of his horrific experiences after his ship was torpedoed in an article marking the 60th anniversary of the Russian convoys.
His seafaring career ended with the close of the conflict and he returned to Brookeborough to work in the family business.
He first met his wife Una, who came from Cootehill, Co. Cavan, during a holiday to Portrush in 1948 when they both stayed at the West Bayview Hotel.
In 1949 his father decided to retire and the family moved to Dunmurry where they set up home just opposite Farrans.
Wife
Mr. Elliott and his wife were married in Christ Church in 1951 and their son John was born in 1953.
They considered emigrating to Australia but decided against such a move and he began a career in the Civil Service.
He started at offices in Belfast's Corporation Street, went on to Dundonald House and then became an inspector covering a wide area of the province.
Eventually he moved to offices in Lisburn before his retirement in 1985. It was at this stage he became heavily involved with conservation work. He was also a keen member of the local Historical Society and served for a period as Treasurer.
Mr. Elliott is survived by his wife Una, son John, daughter in law Pauline and grandsons Simon and Ryan.
His sole surviving sister Mrs. Marion Baron lives in Hillsborough