MOIRA MAN IS DELIGHTED TO RECEIVE AN AUDIENCE AT THE PALACE
Former Mayor off to London to see the Queen
by ALISTAIR BUSHE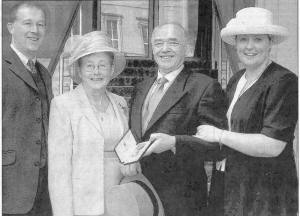 Jim Dillon with his family at Buckingham Palace
FORMER Mayor of Lisburn Jim Dillon has relived the `fantastic' moment last week when he received the MBE from the Queen at Buckingham Palace.
Mr. Dillon said he was full of emotion and pride as he was presented with the MBE in recognition of his services to Local Government over the last quarter of a century.
The Moira man immediately ranked the investiture ceremony alongside the finest moments in his political career, including the conferring of city status on Lisburn Council and the official opening of Lagan Valley Island by the Queen.
To make the moment even more special Mr. Dillon enjoyed a lengthy conversation with the Queen as she presented him with the MBE.
"It was absolutely fantastic, something that was more than delightful," recalled Mr Dillon. "It was beyond all my expectations, especially because I enjoyed a great chat with the Queen.
"She asked me how the new council centre is going, I said very well and that it is being very well used. Then she asked if it made any difference we are now a city. I said it makes a tremendous difference and we were attracting a lot of inward investment including the £100m being spent at Sprucefield. I had heard that you only get 10 seconds to speak to her but I'm glad to say I got much more than that."
To have met the Queen on a personal basis on several occasions was beyond his wildest dreams, Mr Dillon said.
"It was always my ambition to meet the Queen but I certainly never thought I would do it on a regular basis" he joked.
"Before I went a couple of people had spoken to me about the ceremony and said I would really enjoy it. That's exactly what I found, it's something very few people have the opportunity to enjoy. It was fantastic to meet the Queen again." Only when Mr Dillon took part in the investiture ceremony and had another personal audience with the Queen did the overwhelming significance o f his achievement sink in..
He was overjoyed his family were there to witness it.
"I would mark it down as one of the three highlights of my political life. The other two were the opening of Lagan Valley Island and receiving the scroll for city status at Hillsborough Castle when I was Mayor," he added.
"I was privileged when I heard I was getting the MBE but it was only when I got to London that it really started to sink in. I got a bit nervous the day before but once I got into the Palace I was fine. I really enjoyed it a did my family."
04/04/2003