`FATHER OF THE GENERAL ASSEMBLY' PASSES AWAY
Sadness at death of First Lisburn's 'Minister Emeritus'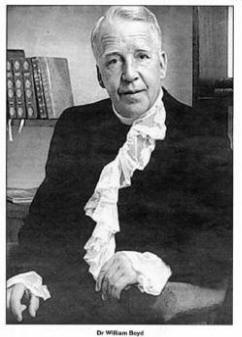 FORMER Moderator and Minister Emeritus of First Lisburn Presbyterian Church Dr William Boyd has died at the age of 95.
As the oldest living minister of the Presbyterian Church Dr Boyd held the honorary title of `Father of the General Assembly' and last year celebrated the seventieth anniversary of his ordination. Noted for his humility and desire for simplicity Dr Boyd was described as 'the essence of Biblical wisdom, a fine preacher and excellent pastor'.
He was a friend to many who could always be trusted and was concerned about people and principles.
His personality was marked by infectious good humour and his fair mindedness and common sense together with firmness made him an effective chairman of many church committees, school governing bodies and education boards.
Born on January 14,1908, at Lear, near Bailieborough, William Boyd was the son of a County Cavan farmer.
He was brought up in the First Bailieborough congregation, known locally as Corglass, and was educated first at Lear National School and Bailieborough Model.
In 1925 he went to Trinity College, Dublin graduating with an MA before completing his ministerial studies at Assembly's College, Belfast.
After an assistantship in the Richview congregation in Belfast, Dr Boyd was ordained as minister of Burt Presbyterian Church in Co Donegal on May 24 1932 where he met and married his wife Meta.
In 1939 he was called to The Mall congregation in Armagh and on the outbreak of war he volunteered as an army chaplain.
In 1941 he was called up serving for the next five years in Northern Ireland, India and with the 14th Division in Burma, Siam and Malaya.
In 1950 Dr Boyd became minister of First Lisburn where he remained until his retirement in December 1972.
Subsequently he helped with pastoral visiting in the Fisherwick congregation.
Dr Boyd served the Church with enthusiasm not only in his oven congregation but in the wider work of the General Assembly.
He was convener of the 'Work among Soldiers, Sailors and Airmen Committee' for 15 years and through his work with the Retired Minister's Fund he initiated an insurance scheme to help ministers in their retirement.
ELECTED
In 1967 he was elected as Moderator of the General Assembly and was awarded an honorary Doctorate of Divinity by the Presbyterian Theological Faculty, Ireland.
He was also involved in the wider community particularly in education and youth work and was chairman of the South Eastern Education and Library Board and the governing boards of Forthill College and Wallace High School.
He also served as chairman of the Girls' Brigade in Ireland.
Dr Boyd was a keen sportsman. A member of the Derry City Rugby team which won the Town's Cup, he was until recently a regular on the golf course where it was said by a fellow player that despite an 'extraordinary putting stance' he was always a force to be reckoned with.
In addressing the Assembly in 1968 at the conclusion of his moderatorial year Dr Boyd expressed views ahead of his time when he commented on the grooving gap between the Church and community, views that were echoed 35 years later by the Moderator at this year's Assembly.
"While I was always graciously received there were times when I felt I was present through custom and not because folk felt the Church and the community were involved together," said Dr Boyd.
"This is what worries me; not that the Church, the institution, is not in good heart, I believe it is, but that it is a community apart and to me the gap between the Church and the community is growing wider. I believe also that the Church which has helped create that gap must now seek to bridge it."
Dr Boyd is survived by his wife Meta and sons and daughters Rosemary, Sheila, John, Roger and Jennifer.
A Service of Thanksgiving was held in First Lisburn Presbyterian Church at 11.30am on Friday 11 July followed by a private cremation.
12/09/2003