DOCTOR EDWIN PARKER LAID TO REST IN MOIRA CHURCHYARD
Tributes to the GP who cared for everybody
by NEIL GREENLEES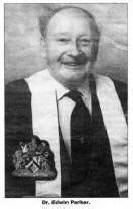 THE people of Moira and beyond turned out in force on Saturday to pay tribute to the man who was their general practitioner for more than 40 years.
Dr. Edwin James Essex Parker passed away last week at the age of 79.
He was laid to rest in the graveyard adjoining St. John's Parish Church following a service conducted by Rector, the Rev. Roderic West.
Even standing room was at a premium inside the church and Dr. Parker's son Sidney, also a GP in Moira, felt this reflected what he regarded as his father's 'finest characteristic' - the fact he cared for everybody.
He also said since his father's passing Moira Surgery had been swamped by both callers and cards.
"People want to come in and speak to me about him which is very touching," he added.
The late Dr. Parker was the son of policeman William Parker and his wife Mabel.
He was born in Castledawson, Co. Tyrone where he spent the first few years of his life.
However, following a move necessitated by his father's employment he started school in Coleraine. Another posting resulted in the family returning to the west of the province to live in Lisnaskea.
Dr. Parker continued his education as a boarder at Sligo Grammar School before transferring to Mountjoy School in Dublin.
His medical studies were undertaken at Queens University and he qualified as a doctor in 1947.
He then worked as a houseman at Lurgan Hospital before setting up his GP's practice in Moira in June 1950.
Dr. Parker married his wife Saide, a native of Moira, two months later.
They and their growing family lived at the Main Street surgery for the next 22 years until the growth in the number of patients led to the purchase of a new home at Old Kilmore Road.
Dr. Parker was an extremely active member of both the British Medical Association and the Local Medical Committee.
He also served as Staff Medical Officer for Lurgan and Craigavon Hospitals for two decades. Throughout his time in Moira Dr. Parker maintained strong links with St. John's Church.
He was a member of the Select Vestry for 41 years and Superintendent of the same graveyard in which he was buried last Saturday for more than 20.
A dedicated member of the Masonic Order for over 50 years he attended the Broomhedge Lodge.
His level of commitment to this was recognised last year when he was presented with a long service medal.
He is survived by his wife, sons Sidney and Tom who is a dentist in Moira and his daughter Pamela Johnston, a teacher at Methodist College.
He is also survived by his son in law David Johnston, daughters in law Heather and Mary and grandchildren Stephen, Peter, Christopher and Ian.
Words of comfort read out during service
AS requested by the Parker family the following words of comfort penned by Canon Henry Scott Holland were read out at the funeral.
Death is nothing at all. I have only slipped away into the next room. I am I and you are you, whatever we were to each other we are still.
Call me by my old familiar name, speak to me in the easy way which we always used.
Put no difference into your tone; wear no forced air of solemnity or sorrow.
Laugh as we always laughed at the little jokes together.
Play, smile, think of me .
Let my name be ever the household word that it always was, let it be spoken without an effort, without trace of shadow in it.
Life means all that it ever meant; it is the same as it ever was, there is absolute unbroken continuity.
What is this death but a negligible accident?
Why should I be out of mind because I am out of sight?
I am but waiting for you for an interval, somewhere very near, just around the corner. All is well
Moira Rector, the Rev. Roderic West, told the congregation in some senses the statement 'death is nothing at all' was true but in some senses it was not.
"As we meet to thank God for the life of the late Dr Edwin Parker, it is difficult to say that death is nothing at all, because death brings separation, it brings grief, sadness, and a sense of loss," he said.
"And yet in another sense, death is nothing at all for those who have died with a personal faith in Jesus Christ as Saviour and Lord: it is the doorway into the nearer presence of God, for them all is well."