AGHALEE MAN EDDIE RECEIVES RSPB'S TOP AWARD
AGHALEE man Eddie Franklin has received the RSPB's highest award.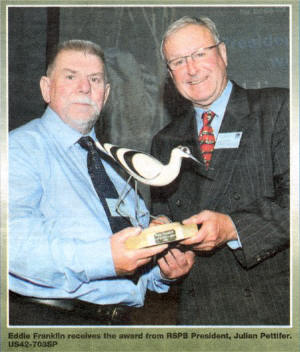 Eddie is not usually seen in a suit. Most of his neighbours in Aghalee and visitors to the RSPB's Portmore Lough reserve are most likely to see him in the familiar dark blue RSPB sweatshirt and workaday jeans.
VOLUNTEERS
However, last weekend the Honorary Volunteer Warden donned coat and tie to receive the RSPB President's Award that honours exceptional volunteers who make the work of the society possible.
Eddie, along with nine other long-time volunteers, received the award in the Queen Elizabeth II Hall in London at the RSPB's Annual General Meeting.
At the award ceremony, President Julian Petiffer and the Chief Executive, Graham Wynne, paid tribute to the winners, who between them have volunteered for the Society for over 180 years. Graham Wynne said: "The RSPB was founded by volunteers in 1889 and today, they are still at the heart of the Society.
"Each year we mark the vast contribution of our volunteers by celebrating the achievements of a small number of very special people. We really are blessed to have an army of such dedicated and selfless volunteers and supporters."
Like the other volunteers, Eddie himself was surprised but delighted when he received the news about getting the award.
"I have been with the RSPB in various forms now for over 25 years. I love what I do and I have just enjoyed every minute of it, I never expected any recognition" he said.
CHERISH
"Being busy, being useful and being active is what I cherish most and the RSPB gives me the opportunity to do this in a meaningful way."
The RSPB has nearly 122,000 volunteers who dedicate over 600,000 hours annually to the Society. If you'd like to find out more about volunteering for the RSPB call 9049 1547 and ask to speak to Mary-Rose Corry, Volunteers Officer.
22/10/2004