MUCH LOVED SCHOOL TEACHER PASSES AWAY
by JAKKI BLACK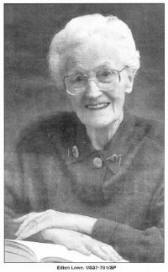 EILEEN Lowe was born Eileen Bradshaw in Trim, Co Meath, in 1919.
She was the smaller of twin girls, whose sister, Eve, died at only a few days old.
In later years, remarking that she said she had once been held on the palm of her father's hand, she often marvelled: "How have I lived so long?"
Her father was an officer in the Royal Irish Constabulary and later in the RUC.
In the nature of the service he had many postings around Ireland with the family eventually settling outside Lisburn.
Eileen attended a succession of schools and loved them all.
Her ambition in life from very early on was to become a schoolteacher.
In 1928 she won a King's Scholarship to the then recently opened Stranmillis college and after graduating began her career at Ballybeg School, where she taught for twelve years.
In the early part of the war she met John Lowe who had been posted to Ballymena on business with the Department of Agriculture and they were married in 1942.
Dr Lowe had an illustrious scientific and academic career in the Civil Service and Lit Queens University and always acknowledged that this success would not have been possible without the strength and support of his wife behind him.
Mrs Lowe, however, continued to map out her own career and after a time in Carryduff was appointed to Tullywest on June 30 1945 where she remained as principal until her retirement on December 31 1971.
In those early days the emphasis was very much on the essential Maths and English of the eleven-plus.
But Mrs Lowe never allowed her pupils' loves to be dominated by such a narrow curriculum.
She introduced generations of schoolchildren to History and Geography, Art and Music, Science and Literature.
Indeed at some stage all of her own five children passed through the school.
After retirement Mrs Lowe followed her husband to Argentina where he was working with the United Nations and was immediately involved again in teaching - this time English to the locals.
The couple moved subsequently to Mexico and Spain but returned in 1974 to the home they had established together at Cairns farm, Carryduff 30 years before.
They travelled extensively, to Europe, America, South Africa and the Far East.
After her husband died in 1993, Mrs Lowe continued to explore the world, sailing on the maiden voyage of the cruise liner Oriana and taking a `girls week' away with her daughter every year, the last being a fun filled and laughter-filled occasion in Fuertuventura at the age of 90.
She is survived by her sister Betty Glass and her children Kevin, Gerald, Kathleen, Michael and Moyra as well as her 14 grandchildren.
12/09/2003