END OF AN ERA AT FORT HILL
By NEIL GREENLEES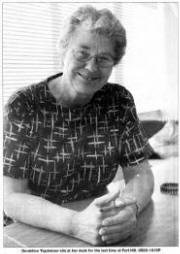 An era which has lasted more has 30 years will finish at he end of next month when Geraldine Tigchelaar retires from her position as Principal of Fort Hill Integrated College.
Ms. Tigchelaar first arrived at the school, then a girl's secondary, in 1970 on teaching practice from Stranmillis College.
She can well remember her first visit: "I had a scooter in those days," she explained.
"I was told to get to Fort Hill I just had to follow' the Lisburn Road out of Belfast.
"I got just a bit past Derriaghy and I thought to myself 'I don't know where this road is going but if I don't find Fort Hill soon I'm going home.
"However, I did find the school and I was back the next year as well.
In fact I've never left it so once I found it they were stuck with me."
Ms. Tigchelaar began her career teaching business studies which in the early 1970's was called 'Commerce, Accounting, Shorthand and ` Typewriting'.
Years
During the next few years she achieved a BA Honours Degree and in 1979 became one of the school's Vice Principals.
She took the position of Principal in 1983 at a time when education was beginning to change quickly.
"There have been an incredible number of changes to the curriculum but everything comes-around," she said.
"Now they are looking for a more flexible curriculum but we were doing that even at the time the school leaving age was being raised.
"In those days we were looking for courses which were more useful and we thought we had them but then the government intervened.
"They were looking for both equality and opportunity but sometimes I feel they were so concerned with equality they forgot about opportunity."
Ms. Tigchelaar said she felt the last two years had seen the school curriculum restrained by a 'strait jacket' which had 'not been to anyone's advantage'. One course which she took in the period during which she took over as Principal proved very useful. "Basically, I was looking for something to stir up the brain cells so I decided to do my Masters of Business Administration," she said.
"Then along came the local management of schools scheme which involved finance so my MBA made this a lot easier to handle."
Ms. Tigchelaar first came to live in Northern Ireland in the early 1970's with her father Mank, a Dutch man who was a Master Mariner and her Welsh mother Becky.
They set up home in Larne and when Mr. and Mrs. Tigchelaar left the province to return to Holland around 1969 their daughter stayed as she had already begun her studies at Stranmillis College for her Certificate of Education.
Looking
For some years she taught at Fort Hill while also looking after the boarders at Victoria College. When she started there the main College was still located at Lower Crescent close to Bradbury Place. However, the Boarding Department was already situated at Drumglass House in Marlborough Park where the entire school moved in the early 1970's
"It was great. During the long summer holidays I had the whole of Drumglass House to myself," she said.
Eventually, she set. up home in Derriaghy and her parents moved back to Northern Ireland when Mr. Tigchelaar retired.
"They returned to live in Larne in the mid-1970's," she explained.
"They decided they had thoroughly enjoyed their previous time there and troubles or no troubles they came back. They really loved the province."
Their love of Northern Ireland is one which their daughter shares.
"People in Northern Ireland have no idea how good they. really are," she said.
"They have a depth to their character which really fascinates me.
Goodness
There is an awful lot of goodness in this society and it has been lovely to watch the children grow and develop and to get to know the people I am living amongst.
"I know people here talk modestly about their hospitality but this is true to a depth I don't think they really appreciate.
"I have come home from work over the years and found tupperware-boxes with soda bread and potato bread in them because I think people realise I'm not that domesticated."
Ms. Tigchelaar said the first challenge of her retirement will be to find 'a new structure' for the rest of her life.
She intends to do a great deal of reading, writing and researching as part of her interest in genealogy, middle European history and the early Celtic Church.
"I really would like to find out a hit more about these," she said.
In my Dutch genealogy I am already back to 1650 and in Wales to the 1700's.
"I have relatives in both areas whom I can stay with while I'm carrying out my research."
Shortly, she will make her annual trip to Wales to 'brush up on her Welsh'.
She also has a sister in Holland and while she has no definite plans she knows some of her Dutch relatives will be coming to visit her now she has more free time: ""That will be very nice," . she concluded.