HARRY FERGUSON, INVENTOR AND PIONEER
by HAROLD GIBSON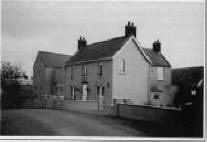 THE FAMILY HOUSE AT GROWELL (G.M.)
On the 4th November, 1884 Mary Ferguson presented her husband James with a son, Henry George. The family home, Lake House at Growell near Dromore is where the young boy grew up with his 3 sisters and 7 brothers. His father was a farmer and unlike many farmers of his day he owned the 100 acres that he earned his living from and provided work and food for the family.
James and Mary Ferguson were devout religious people being members of Growell Gospel Hall. Family life was characterised by allegiance to the Bible and so young Harry (as he was called) grew up under this influence. It was an influence that was to have the opposite effect to that which his parents would have desired. Harry left school at the age of 14 and started work on the farm. The hard work of farming and the light stature of Harry together with the pressures being brought to bear on him by his parents made him think of leaving home. He seriously considered emigrating to Canada and had the necessary papers in his possession ready to head for foreign shores when his older brother Joe made him an offer of a job in Belfast.
Joe had got an apprenticeship as a maintenance mechanic with the firm of Combe Barbour, Linen Spinners, in 1895. He then set up in business on his own in the Autumn of 1901 on the Shankill Road as a car and cycle repair shop. Harry joined his brother as an apprentice and together with their love of things mechanical they established what was described by many as the best business of it's kind in Belfast and they developed into a financially sound business. Just a few years earlier the bank had refused to lend them any money because "the automotive industry had no future"!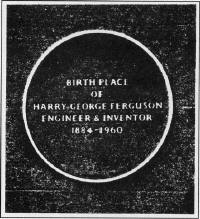 Many people came to Joe's garage to have their cars tuned and serviced and it was here that Harry met some people who would have an input to his life at a later date. One such person was T. McGregor Greer, a wealthy landowner from Tullylagen, Co. Tyrone. Greer had a passion for cars and Harry became a frequent visitor to the estate to repair his various cars.
Harry had a love for racing and he became known as the "mad mechanic" because of the many stunts he attempted. Racing was not enough to keep him on the ground and he became interested in aviation. He attempted many times to get airborne and spent some time at Newcastle trying to get in the air with the hopes of landing on the beach. Huge crowds gathered on many occasions but they all ended in failure and for many people he became something of a maverick. However, Harry did not give up and he successfully got airborne from Dundrum Bay. This was in 1909 and the first flight over Ireland to be recorded.
Back at the business however signs of strain between the brothers were starting to emerge. It was not over any particular piece of mechanical engineering but rather over a special young lady whom Harry had started to keep company with and it being the same lady upon whom Joe also had designs that caused the friction. She was Maureen Watson, the daughter of a Dromore grocer and it was Harry who won the day. Despite strong objections from Maureen's parents who were members of the Brethren as well and knew the Ferguson family they felt that the "mad mechanic" was not the man for their daughter. Harry had by this time declared himself to be agnostic and this was a further reason as to why Harry should not marry Maureen. The wedding nevertheless did take place at Newry Registry Office.
Harry then set up in business backed by his good friend McGregor Greer and he opened the May Street Motor Co in Belfast.
Joe would not allow him to open up under the name of Ferguson. Within a year the name of the firm was known as Harry Ferguson Motors. He became the distributor for Austin Cars in Northern Ireland and the business later moved to Donegall Square East in Belfast, at the side of the City Hall.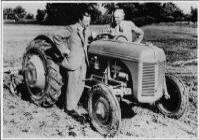 Harry Ferguson with Henry Ford and the tractor in America in 1939. (courtesy of Ulster Folk and Transport Museum).
Being from an agricultural background and with his mechanical ability Harry had taken an interest in the many attempts to bring mechanisation to farming. He studied the many pieces of machinery that were emerging from various manufacturers and whilst regarding them as innovative he felt that they lacked a system that would make the tractor more effective and labour saving to the farming community. He had an idea to introduce a hydraulic system that would enable implements to be attached to the tractor from a single hitch point. Harry brought together a design team to put his ideas onto paper and eventually into production. At the same time Henry Ford was making tractors in America. Harry felt that they could conquer the industry together and after contacting Ford he eventually visited America to show Ford his ideas and plans. Ford and Ferguson went into partnership in 1938 by the way of a "gentleman's fitted agreement" and soon production of the Fordson tractor with the Ferguson hydraulic system was rolling off the line and being sold on both sides of the Atlantic. Ferguson realised that if the tractor was to be successful then its virtues had to be shown to the farming community at large. He had a flair for marketing and so he organised various demonstrations around the Ulster countryside so that farmers could come and see for themselves the wonders of this mechanised horse! Many came to laugh and to pour scorn on Harry but he was not put off as he continued to give shows all over the country Harry Ferguson knew that what he had developed would prove to be a winner all over the agricultural world.
Trouble lay ahead for Ferguson and Ford and soon their partnership was to come to an end not in an agreeable way but by the means of the Law Courts. A dispute arose between the two men that resulted in the longest law suit in history to take place. The hearing lasted from 1948 until 1956 and Harry Ferguson won the case and was awarded several million pounds in damages.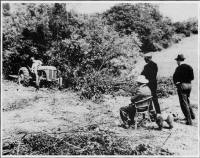 Demonstrating the tractor to Winston Churchill and Christopher Soames at Chartwell. (Ulster Folk and Transport Museum)
Ferguson of course was a wealthy man before this case but now he was considerably wealthier though his outlet for the tractor was gone. After some time he became involved with the Massey Engineering Company and this eventually led to the formation of the Massey Ferguson Company, a name that is well remembered to this day for its production of red tractors.
Time for Harry Ferguson was passing on and he and his wife bought a large estate near Coventry called Abbotswood. It was near to his design centre though the house had a large study which Ferguson used as a base to work from. Often as he would be driven through the countryside he would watch out for one of his tractors at work in the fields. He would ask his chauffeur to pull up and he would often get out and speak to the farmer or help him if he was experiencing any mechanical difficulties with the machine. In most cases the farmer would have had no idea who this man was that had helped him.
When he was back in Ulster he usually called with the late Joe Martin who lived in Mount Street, Dromore and who had been one of his close mechanical companions during those early days of aviation and in the garage in Belfast. Ferguson's influence was far and wide and while he had friends from lowly places he had friends in high places. A frequent visitor to Abbotswood was Christopher Soames son in law of Winston Churchill. Ferguson had the privelege of demonstrating the tractor to Winston and he sought to get Churchill to adopt a price reduction policy after the war to get the country going again. Churchill did not buy the idea and of course he lost the next election. Had he taken Ferguson's idea on board things may have proved different and a Dromore man may have been credited with keeping Churchill in power.
He was not an easy man to work for or to work with. Some of the staff at Abbottswood will recall how he ran the place with military precision. Meals would always be on time and great attention to detail would be given. He liked to see an even overhang of the sheets on the bed and his shoe laces must always have an equal length of lace for tying! This was just a development of the attention that he paid to all areas of his life. He loved to see things neat and tidy. On one occasion he had a meeting with his dealers and Ferguson appeared on the rostrum looking somewhat scruffy and with oily marks on his face. The audience started to talk amongst themselves when Ferguson spoke loudly and said that if their business premises looked scruffy and dirty people would not pay any attention to them. He had proved his point and after cleaning up he returned and gave his dealers an address on selling.
He was always pleased to hear of new advances that his tractor was making in different parts of the world and he received many letters including some from Africa. In parts of the world today the tractor is called the Fergie more often than it is called tractor.
Harry Ferguson and his wife continued to live at their country home. It was the first time that they could call this place their home. So much time had been spent living in America and in other places in England. He would often be seen out on the fields working with the tractor. He spent a lot of his time in correspondence to the Government, to the press and to many others.
Every morning at precisely 8.30 he came down and joined his wife at breakfast. One morning in October 1960, the 25th, he did not appear at the usual time and after the alarm was raised a member of staff found his body in the bath. Harry Ferguson was dead. Yet the memory of this great man lives on. So many years earlier he knew that if man was to survive he needed food and that meant cultivation of the earth. His life was dedicated to pioneering a system that would make this easier for the farmer and give to the world an instrument that would help nations cultivate their land and feed their people.
Harry Ferguson is a man that should be remembered for time immemorial because his inventions and pioneering spirit contribute so much to life today. The tractor, the aircraft and the four wheel drive system that he developed are all modes of transport that are taken for granted in this modern mechanised age. Plaques on the building at Donegall Square East, the Promenade at Newcastle and on the house at Growell all pay tribute to Harry Ferguson, Inventor and Pioneer.
12/11/2003