FLOOD OF MEMORIES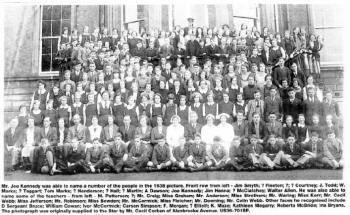 Mr. Joe Kennedy was able to name a number of the people in the 1938 picture.
Front row from left - Jim Smyth; ? Fleeton; ?; ? Courtney; J. Todd; W. Marks; ? Taggart; Tom Marks; ? Henderson; ? Hall; ? Martin; A Dawson; Joe Kennedy; Jim Hanna; ? McClatchey; Walter Allen. He was also able to name some of the teachers - from left - M. Patterson; ?; Mr. Craig; Miss Graham; Mr. Anderson; Miss Strothers; Mr. Waring; Miss Kerr; Mr. Cecil Webb; Miss Jefferson; Mr. Robinson; Miss Bowden; Mr. McCormick; Miss Fletcher; Mr. Downing; Mr. Colin Webb. Other faces he recognised include D Sergeant Bruce; William Cowan; Ivor McCormick; Carson Simpson; F. Morgan; ? Elliott; K. Maze; Kathleen Megarry; Roberta McBride; Ina Bryans.
The photograph was originally supplied to the Star by Mr. Cecil Corken of Alanbrooke Avenue. US36-701 SP.
THE pictures of staff and students at Lisburn College in the late 1930's which appeared in the Star two weeks ago have brought memories flooding back for a number of people who feature in them.
The 1938 photograph caught the eye of both Mr. Joe Kennedy (one of the students) and Mrs. Agnes Adams, formerly Miss Graham (one of the teachers).
Mr. Kennedy who now lives in Lisnagarvey Drive is fourth from the right in the front row.
He began his career at the college in 1938 when he was just 16 and at that stage had no idea he would not finally leave the Castle Street building until his retirement in 1982.
Miss Graham was already a teacher at 'The Tech' as the Second World War loomed and in later years Mr. Kennedy became one of her professional colleagues.
He explained he completed his junior examinations and was starting work on more senior qualifications when the beginning of the conflict provided the opportunity to use machines in the college for the war effort.
Mr. Kennedy was one of seven students who took part in this scheme and was paid seven shillings and six pence per week.
"We were making parts for Harland and Wolff's, Shortt and Harland's and Ferguson's factory out at Moira," he explained.
"These included mechanical parts for ships, parts for aircraft and parts for anti-aircraft Beaufort guns."
After the war ended Mr. Kennedy was asked to stay on at the college.
He became a full time member of the teaching staff and remained so until his retirement 36 years later.
"I've been 22 years retired and I'm now 82 but I can say I thoroughly enjoyed my time at the College," he added.
Mrs. Adams is fourth from the left in the second row of the same picture.
She explained she taught at 'The Tech' for six years before leaving to have her two daughters.
She returned after 12 years and was eventually invited to move to Fort Hill Girls High School when it opened in the early 1960's.
"I looked after business studies and then careers as well," she recalled.
"I also became a counsellor at the school and I can honestly say I had a very happy teaching career." Miss Graham came originally from the Dromara area and drove every day from her father's farm to her post in Lisburn as her mother was not happy at the prospect of her staying in the town.
She became Mrs. Adams when she married Mr. William Adams who returned to Northern Ireland after managing a factory in England which employed 1,000 women.
The couple brought up their two daughters in Clonevin Park before moving to Belsize Road.
She now lives at Duncan's Road and is the mother in law of local architect Mr. Des Clayton.
Although aged 90 she enjoys good health and is still able drive her Subaru car, which she uses to visit the centre of Lisburn and to attend her place of worship in Hillsborough.
24/09/2004