FORMER LISBURN MAN IS RE-UNITED WITH MOTHER
William's journey ends in tears of joy.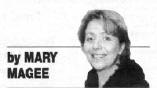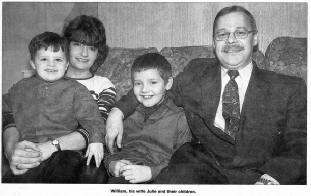 A MAN brought up in a Lisburn children's home has been reunited with his mother for the first time in 42 years.
William Mooney took the final steps in the long journey to find the family he had not seen since he was a child when he travelled to Wicklow to meet - and embrace - his mother for the first time in four decades.
The meeting was the last stage of William's search which began when he appealed in the Ulster Star last year for information on the older brother he was forced to leave behind after being adopted while the youngsters were together in Manor House Home.
That hunt ended in success when William met up with his brother Ian again earlier this year.
It turned out they shared the same birthday, and when the two got together for a special celebration on September 24 William (42) was able to give Ian the birthday present he most wanted - the news he had found their mother.
He told her that he had found their mother in County Wicklow and had travelled to her home to meet her some weeks before.
When William broke the news the brothers both wept tears of joy.
The pieces in the jigsaw of William's family had first begun to come together when his wife Julie contacted the social services who were able to tell her Ian had been in touch sometime earlier. After a process of exchanging letters the brothers met earlier this year for the first time since that painful separation in the Lisburn home.
But another piece was still missing and William and Julie set about locating the boys' mother.
Based on other information they thought she might have been living in Wicklow and put an ad on a web page for Carnew detailing what information they had about their birth mother.
They knew William was born in Bangor and his parents moved to Bath Terrace in Hollywood. From a marriage certificate they found Mary Elizabeth Kavanagh was his mother and had married his father David at Carmoney Presbyterian Church in 1953.
They heard nothing until after returning from a holiday in Florida in July.
When William checked his e-mail and found a reply from a girl in Carnew.
It said she could have information about his family and his mother but asked William to send his birth certificate and pictures of himself.
While trying not to build up his hopes William decided to send what information he could.
"I had nothing to lose and I would have done anything for any information," he said.
"I forwarded these to this girl right away. I finished at lam and when I pressed the 'send' button on my e-mail I was shaking with anticipation."
The next morning William checked his e-mail and found the girl had replied.
It turned out she was one of 56 cousins who lived only five miles from his mum.
Even more surprisingly she welcomed William to her family.
After exchanging notes by e-mail, William and his newly found cousin decided what to do next.
William wrote a letter to his mother explaining who he was and explaining how he had spent the past 30 years looking for her.
He said that one day he hoped they could meet.
"I explained that if she wanted to that we could keep it simply between the two of us if we met," he said.
"I posted the letter and within four days I received a phone call from my mother who was in tears with joy as she had prayed that one day one of her sons would find her.
"We spent hours on the phone talking over what had happened to the two of us over the years.
"At the end of the call we arranged that I would try and get time off work to get down to Co Wicklow to meet her.
"When I put the phone down all the years of emotions just seemed to flow out and both Julie and I shed quite a few tears together."
William had not seen his mother for 42 years and wasn't going to waste any more time so decided to plan the trip straight away.
That weekend Julie and William set off for Carnew. Following a six hour drive they arrived at the house where we were met by his aunt and uncle who were there as 'backup.'
"I entered the house and into the living room where my mum was standing waiting and when she saw me she flung her arms around me and the two of us hugged and cried for what seem an age.
"After I introduced her to Julie all my new found relations started to arrive to meet us.
"I cannot describe how I felt but you can guess how pleased I was to have found her after such a long time and to be welcomed into the family with open arms.
"It was as if these people had known me all their lives and in a way I suppose they did because as the weekend progressed photos where brought out and the likeness of my cousins and uncles to myself was uncanny."
---
'I couldn't believe that I was staring into my brother's eyes'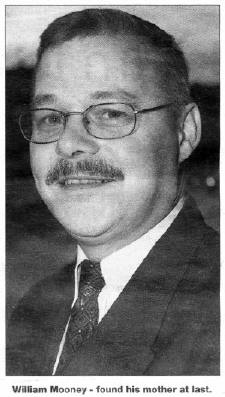 WILLIAM Mooney spent a long time trying to locate his brother.
He hadn't seen him for 36 years since they were separated from each other when William was adopted and Ian was left behind in Lisburn's Manor House Home in 1966.
William had been in the home since he was a baby and at the age of seven adoptive parents were found for him.
Because of the strict rules at the time the authorities would not allow the two boys to be adopted by the same family despite protests from William's adoptive parents who were willing to take both children.
William knew little as to why both he and his brother were placed in a home and had no recollection of his biological parents.
The pieces began to fall into place when the brothers had an emotional reunion arranged by social services.
They met at a hotel accompanied by social services, Julie, William's wife and Margaret, Ian's partner.
"We just threw our arms around each other," recalled William. "The only word I could get out was 'hello',
He said to me `it has been a long time' and I said 'yes too long.'
"There were a few tears shed and I just couldn't believe that after all this time of waiting and hoping that I was staring into my brother's eves."
There was an uncanny resemblance between the two who both sport moustaches, and have their hair parted the same way.
They also discovered they were born on the same day September 24 - three years apart. Strangely, both had a feeling their paths had crossed since the separation.
"I don't know where, but I knew I'd seen him at some time without even realising he was my brother," recalled William.
"I work at Stormont and Ian works for the council so the chances were that we had met at some time without realising the connection."
After they met they exchanged information and found that their other brother lives in Scotland as does their father.
Ian had left the orphanage in Lisburn to live with a family on the Shankill Road. His foster parents are now dead, and his step sister lives in Australia.