Historian played big role in developing Garden City links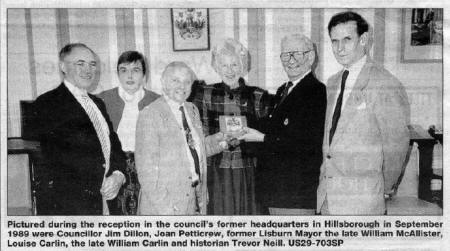 Pictured during the reception in the council, former headquarters in Hillsborough in September 1989 wore Councillor Jim Dillon. Joan Petticrew, former Lisburn Mayor the late Willam McAllister. Louise Carlin, the late William Carlin and historian
Trevor Neil. US29-703SP
RECENTLY we carried a report about the links between Lisburn and Garden City, New York.
This encouraged local woman Joan Petticrew to bring in this photograph taken in September 1989 when the links with Garden City were being uncovered.
Former Lisburn Mayor, the late William McAllister, is seen presenting the Lisburn borough plaque to American historian, the late Bill Carlin.
Mr. Carlin researched the history of Garden City and its founder Alexander Turney Stewart who was originally from the Lisburn area.
Mr. Carlin, originally from Pittsburgh but at that stage living in Switzerland, spoke of his discoveries to Killultagh Councillor Jim Dillon, who also took a 'keen interest' in Stewart's life.
Local woman Joan Petticrew explained that Mr. Carlin's son Chris was following in his father's footsteps by continuing to take a keen interest in the history of Garden City.