Photograph brings back memories of well known family
By Neil Greenlees
25/05/2001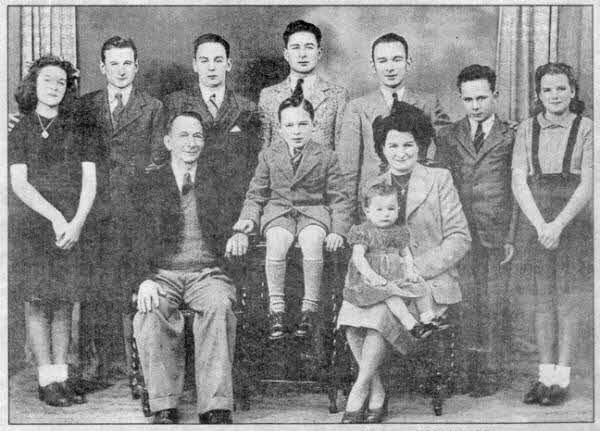 The Ginesi family who were well known in Lisburn US20/104SG
At one time no night out at the pictures in Lisburn would have been complete without a fish supper from Ginesi's in Market Square.
This old family photograph has been supplied by Mr. Dominic Ginesi and shows his entire family in the days when his parents were known to almost everyone in the town.
Mr. Ginesi who is now 61 was eight or nine when the photograph was taken at the end of the 1940's. He is sitting between his parents Ida and Francesco and his mother is holding his younger sister Maureen.
In the back row are his older siblings Mary, Victor, Joe, Sisto, Frankie, Noel and Carol (twins).
Sadly, his parents are now dead as are two of their sons Victor and Joe.
His sister Mary lives in Canada and Carol lives in her parents' native Italy.
Two of his brothers have also moved away and now live in London.
Mr. Ginesi lives in Knockmore and is well known as he works for the Island Cleaning Company. He explained his parents were married in the Cumbrian town of Barrow in Furness around 1920 before making their home in Lisburn. "When they came here at first they dealt only in ice-cream but eventually moved on to fish and chips," he explained.
"In the beginning they actually lived in the shop and had to sleep on the floor before they were able to move into the living quarters upstairs."
The family business occupied the premises now known as Eats Restaurant.
"My father tried to provide a good service to the people of Lisburn," Mr. Ginesi recalled.
"In those days times were very hard and for many people fish and chips was the most nourishing meal they had.
"If anyone really didn't have money to pay, my father would have fed them anyway. He really was that type of generous man.
Provide
"He tried to provide for people and he would not have turned them away."
At the time the photograph was taken Mr. Ginesi was a pupil at the old school attached to St. Patrick's Church in Chapel Hill.
He can remember clearly the day the family posed for the portrait.
"It was taken at a photographers located close to our own shop," he said.
"I cannot remember his surname but I believe his Christian name was George."If you have any interesting old photographs recalling events or families in the Lisburn of yesteryear please bring them along to the Ulster Star at 12A, Bow Street.
25/05/2001