NAZI DEPUTY FUHRER RUDOLF HESS
| | |
| --- | --- |
| Did Hess consider landing at Aldergrove? | |
WAS RAF Aldergrove the real destination for Nazi Deputy Fuhrer Rudolf Hess when his plane landed in Scotland during his one man mission in 1941 to end the war between Britain and Germany?
This is just one of the questions posed by a new television documentary series based on the findings of a book entitled `Double Standards: The Rudolf Hess Cover-Up'.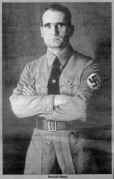 Written by Lynn Picknett, Clive Prince and Stephen Prior, the book claims two Czech pilots stationed at Aldergrove may hold the key to the mystery.
In May 1941 as Hess flew past Glasgow, two Hurricanes piloted by Captains Vaclav Bauman and Leopold Srom were dispatched from the Co. Antrim airfield to locate Hess's aircraft.
They were told 'under no condition to shoot at it' as Hitler's Deputy attempted to secure a secret peace deal with Churchill.
Sent as an escort for his expected landing at Aldergrove - a possibility that was marked on Hess's own map - the two pilots were told to 'stop action and return' when Hess turned his plane back to Scotland in a second attempt at landing in Glasgow.
Worst
All of this coincided with the worst night of the Luftwaffe's blitz on Britain and the programme makers believe the concentrated attack took place to reinforce Germany's bargaining position.
Within days the German airforce ended this tactic once it became clear the RAF would stop bombing German cities in return. The programme makers ask if this was effectively a secret armistice between the two enemy nations.
They also claim Hess's fate may well have been linked inextricably with that of the King's brother Prince George, Duke of Kent who died in a mysterious plane crash in Scotland in 1942.
Initially, they believed this to be a totally separate mystery.
However, they discovered like many of the Establishment of the day, Kent had long been involved in secret peace talks with the Germans.
They believe he represented the Royal Family in a 'welcoming committee' set up for Hess's arrival, but when the visit went horribly wrong tracks were rapidly covered and all knowledge of the peace mission was denied.
The Duke died on August 25, 1942 whilst flying a special mission'.
Body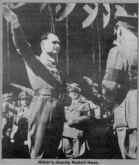 Picknett, Prince and Prior have discovered one body too many was recovered from the wreckage of the tragic flight and have traced its last movements to a solitary house where Rudolf Hess had been kept.
Was the extra body that of Hitler's Deputy? Was Kent taking Hess to peace talks in Sweden when it crashed? These are just two of the questions posed by the authors.
The mystery deepens when one considers a man supposed to be Hess was later declared insane and imprisoned for life.
A documentary entitled 'Hitler & Hess', produced by Sir David Frost and based on the book will be broadcast on independent television later in April.
With further programmes on the subject currently in production, TV unit www.Pharo.Com invites contributions on this peculiar mystery from anyone with knowledge of Hess, Kent or any other related topic.
To contribute to the TV series, see www.Pharo.Com/Hess or contact Richard Taylor on 07974252957.