IRIS MURDOCH AND HILLHALL
The ties that bound Iris Murdoch with Hillhall
by Marie Louse McCrory

THE critically acclaimed film 'Iris', starring Dame Judi Dench,
Kate Winslet and Jim Broadbent, will arrive in our cinemas later this month.
The film, which details the life of novelist Iris Murdoch and.. her battle against Alzheimer's, has already enjoyed phenomenal success in America and promises to repeat this performance around the UK. But while the story surrounding the famous novelist's later life is familiar, what is less well known is Iris's strong family connections around Lisburn.
Her ancestors were solid rural stock 'who farmed for seven generations at Hillhall, where they worked about fifty acres leased from the Marquis of Downshire and a further ten acres from the Hertford estate
Today the family burial plot remains inside Derriaghy Parish Churchyard although the family were primarily Presbyterian.

In deference to their Downshire landlords the novelist's grandfather was christened Wills, a favourite name amongst the Downshire Hill dynasty; who gave their surname to Hillhall and Hillsborough.
As a young man Wills emigrated to New Zealand where he married Louisa Shaw and settled into his work as a farmer.
Subsequently he returned to the Hillhall farm to claim his inheritance and brought with him his young family, including his son Hughes - Iris Murdoch's father.
In common with many farmers' sons of the day, Hughes Murdoch received his education at the Quaker School at Brookfield.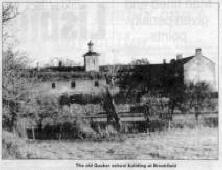 Hughes joined the Civil Service in 1906 and was one of the 49 colonial Civil officers who volunteered to join the British forces when World War 1 broke out.
Of those 49 who went out to fight, only 20 returned, including Hughes Murdoch, who was subsequently made an officer and stationed at Curragh.
In 1918, Hughes married Irene Richardson in Dublin. Shortly afterwards he moved his young family, including his young daughter Iris, to the Acton area of London.
It's true to say that neither Lisburn n o r Northern Ireland ever featured prominently i n Murdoch's novels, nevertheless the link was strong.
Iris Murdoch was made a Dame of the British Empire in 1987.
The Murdoch family plot is in Derriaghy Parish churchyard.