HUGH GRAY BASS DIES AT HIS HOME IN CLONEVIN PARK
The Father of modern Lisburn passes away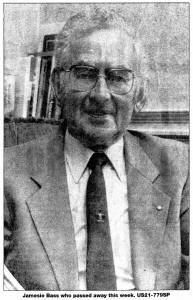 HUGH Gray Bass (89), regarded as the father of modern Lisburn, has passed away at his home in Clonevin Park.
Mr. Bass, universally known as Jamesie, first moved to Lisburn in 1935 and served with the RAF during the Second World War. When he returned he took a keen and active interest in the affairs of the town, becoming a Founder Member and Secretary of the Rotary Club, which this year celebrates its 50th anniversary, and Founder President of Lisburn Chamber of Commerce.
He was elected a member of Lisburn Urban Council in 1961 and was one of the main organisers of an historic meeting in the Lombard Cafe on April 11, 1963 when he was chosen to be Convenor of a Committee organised to collect the 2,000 signatures required before borough status could be conferred.
He strongly felt this was the best way forward for the town and in 1989, the silver jubilee of the granting of borough status, he told the Star he still believed it had been the right move.
"At the time we felt the influence of Lisburn both at home and abroad would be enhanced by having borough status attached to it," he said. "We were concerned the town would become part of Belfast and it was important it kept a separate identity.
"The idea of applying for Borough status had been talked about for some time but it was important it should be done then because Lisburn was on the point of expanding and new people living there would not have had its interest at heart. The chance of getting the required signatures would have been remote."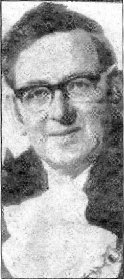 The decision to apply for borough status was taken during the meeting and Mr. Bass was one of 15 volunteers who tramped the streets in a bid to collect the 2,000 signatures necessary to petition the Governor of Northern Ireland.
In 1989 he recalled how it had been necessary to call at every house.
"Many of the people we met were not rich and endowed with the world's goods but they were prepared to face difficulties and overcome them and they had pride in their town. I was very impressed by many of them," he said.
"There was a great deal of support from all sections of the community for becoming a borough."
Mr. Bass and his fellow volunteers collected 2,738 signatures and the Borough Charter was handed over on May 1, 1963.
For the rest of his life he strongly believed the granting of the Charter heightened civic awareness among Lisburn's citizens.
Mr. Bass went on to play a major role in the growth of Borough.
He was elected to the post of Deputy Mayor in 1966 and Mayor in 1970. He held the position of first citizen until 1973 when the reorganisation of local government in the province took place. But his efforts on behalf of the community did not end with his council work.
He was a Director and Chairman of the Lisburn Abbeyfield Society, Chairman of the Lisburn Historical Society and a member of the Society of Friends.
He also served on the Board of Governors of Friends School and was Vice-Chairman of the Northern Ireland Historic Buildings Society.
In addition to this he was a Director of the well known local firm of Alexander Boyd and Co. Ltd. which first opened in Lisburn in 1860, and was appointed a Justice of the Peace for Co. Antrim in 1969.
His outstanding public service led to him being elected an Honorary Burgess of the Borough in 1973.
The current president of Lisburn Rotary Club, John McDonough, said Mr Bass's death would be keenly felt across the city and beyond.
"It is particularly poignant that Jamesie has passed away as we are preparing to celebrate our 50th anniversary" he said.
"Just two weeks ago we told him of our intention to confer honorary membership as a token of appreciation for the huge role he had played in the club and the movement and he had written back to tell us how thrilled he was.
"Our sympathies are with the family at this time."
One of Lisburn's longest serving councillors said he was 'deeply saddened' to hear of Mr. Bass's passing. Alderman Ivan Davis said Lisburn should be 'indebted' to people like Mr. Bass who was a 'very shrewd, far sighted and industrious businessman'.
"He contributed greatly to the prosperous city we have today," he added.
Mr. Bass, who was predeceased by his wife Joan, is survived by his daughters Rosemary and Judi and his son David.
His funeral will be held tomorrow (Saturday) at 11.00am and will take the form of a Quaker meeting for worship in the assembly hall at Friends School.
The service will be followed by burial at Lisburn New Cemetery.
21/05/2004