MOTHBALLING OF LINE MARKS END OF AN ERA FOR HARRY
| | |
| --- | --- |
| | Last train brings back memories for former railway employee |
THE end of railway services between Lisburn and Antrim next Sunday (June 29) will also mark the end of an era for local man Harry Mulholland and his family.
Mr. Mulholland, who lives at Beanstown Road, is a former employee of the Great Northern Railway and latterly NIR and spent much of his working life on the line, initially being employed at Brookmount Halt during the Second World War.
In those days the station was heavily used by American military personnel whose base was located close by.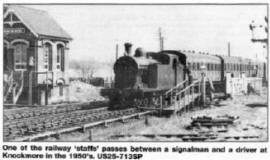 The last 20 years of Mr. Mulholland's working life were spent at Knockmore Signal Cabin which stood just where the Antrim branch left the main tracks to Portadown and Dublin. He retired in 1977 when the signal box was demolished and a new bridge constructed to carry the adjoining road over the lines.
However, the Mulholland family's connections with the Lisburn to Antrim line go back considerably further than the 1940s.
Mr. Mulholland's grandfather was involved in the original construction of the branch in 1871.
His other grandfather retired in 1900 after working as a signalman in Crumlin.
"My father worked as a ganger between Knockmore and Lisburn and was in charge of the track between Knockmore and Antrim," he added.
"There were nine of us in the family and the only breadwinner was my father who brought home his wages from the railway.
"I had four other brothers and when we grew up we all worked on the Antrim to Lisburn line." Mr. Mulholland believes the closure of the line is a disaster for the communities which lie along it.
"I feel the people of Ballinderry, Glenavy and Crumlin should have made a stronger objection to this," be said.
"It's alright to leave things to politicians but I worked on the railways all my life and to be honest you rarely saw a politician travel by train.
"They say they are closing the line because people are not using it. "But it's the way services have been cut that's really to blame.
If you go to Lisburn now to get a train to Antrim they send you outside to get a bus. Believe you me that's a real insult to any railwayman."
Mr. Mulholland has many memories of his time on the railway.
He can clearly remember the royal train. running between Lisburn and Antrim in 1945, pulled by an engine appropriately named 'King George V.
But most of his recollections are of the people be met on a daily basis in the course of his work. During his time at Knockmore be got to know many of the engine drivers.
It was part of his job to receive the 'staff' (latterly a hoop) which indicated a train bad passed over the single line serving Ballinderry, Glenavy and Crumlin. He then passed out these items as trains left the main Dublin line to wend their way through the three villages.
Next Sunday he will be present for the steam train runs being organised to mark the mothballing of the line.
In honour of the occasion be intends to take one of his railway staffs with him.
"I am going to get a photograph of the driver taking it off me - just for old time's sake," be added.
| | |
| --- | --- |
| | |
| A steam special leaves the Antrim line at Knockmore on May 22, 1976. US25-714SP | The royal train at Lisburn in 1945. US25-712SP |
Steam train runs to mark final day of services
THE final day of services on the Lisburn to Antrim line will be marked in style by two special steam train runs organised by the Railway Preservation Society of Ireland.
A spokesperson for the Society explained these will operate as round trips from Antrim at a flat rate of £7 per person.
It is possible to board the train at Lisburn and travel back to Antrim but anyone doing so will either have to make their own way back or buy another ticket for the return trip.
The two journeys will leave Antrim at 1.00prn and 3.45pm arriving in Lisburn about one hour later.
The engine will be a restored steam locomotive originally built in 1947 which was a regular on tire line during its career with the Great Northern Railway.
Passengers will tide in restored vintage carriages dating from the 1940s and 1950s.
The round trip will take around two hours and will include a short stop at Crumlin Station in each direction to allow passengers on and off and accurately recreate the atmosphere of a steam hauled passenger stopping train during the 1940s, 50s and 60s.
There will also be a dining car which will serve teas, coffees and a full bar service.
Tickets can be obtained from Antrim Tourist Information Centre at 16 High Street in the town.
The telephone number is 9442 8331 and advanced booking is recommended.
The final scheduled passenger services on the line will be the 18.13 departure from Belfast to Antrim and 19,22 Antrim to Belfast train.
A spokesperson for public transport company Translink said next Sunday would be a sad day for the railway industry.
"It will be a very sad day for us and we would like to see the line open again at some stage. We hope it will be closed only on a temporary basis," she added.
Translink will still have to maintain the line which will he used in emergency situations such as security alerts.
The company hopes one day the line will form part of a Belfast-Lisburn-Antrim-Belfast circular service.
However, in the meantime revised bus timetables have been issued setting out details of extra services between Antrim, Crumlin, Glenavy, Ballinderry and Knockmore.
Viaduct is a unique feature of line
THE Antrim line, which is 18.5 miles long and branches off the main Dublin tracks at Knockmore, has a unique feature.
It crosses a short steel viaduct on the Antrim side of Crumlin which is actually a triple level bridge in that it carries the track across a road which in turn carries traffic across a river.
The branch, which features 43 other bridges, was first opened on November 13, 1871 and at this stage was owned by the Antrim and Dublin Junction Railway.
However, it was later sold to the Great Northern Railway and subsequently passed into the hands of the Ulster Transport Authority.
This body closed it to passenger traffic on November 12, 1960 and it remained out of use until just under 14 years later when Northern Ireland Railways re-opened it on January 28, 1974.
Several years later trains between Londonderry and Belfast were rerouted over the line travelling to Central Station via Lisburn rather than York Road via Whiteabbey as was previously the case.
These services have now reverted to their original route using the cross harbour rail link.
19/06/2003