THE LIFE AND TIMES OF A PHILANTHROPIST EXTRAORDINAIRE
The Stars `n` stripes Festival this year will be marking the bi-centenary of the birth of Alexander Turney Stewart. The Director of Lisburn Institute, ALISTER McREYNOLDS, outlines his remarkable life.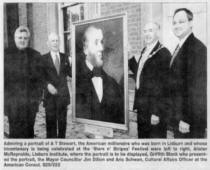 ALEXANDER Turney Stewart was born in 1801 at Lissue outside Lisburn on a farm which had been leased from the Hertford estates by James N. Richardson of Springfield.
Richardson was a much esteemed member of a very successful Quaker merchant family. If it is not a contradiction in terms the Richardson's were Quaker aristocrats in every sense.
Alexander Stewart's mother was what today we would call a 'single parent' having been very recently widowed whilst still in her teens.
The young Alexander Stewart showed promise at school and initially seemed to have something of a calling to the Ministry of the Church of Ireland into which faith he had been born.
His guardian, Mr. Thomas Lamb, who was also a Quaker and who lived nearby at Peartree Hill, Maze, felt that his pleasing personality would be very suited to trading.
Mr. Lamb had become Alexander's guardian when his mother Margaret had married again - this time to a Mr. David Bell.
Alexander was just 18 months old when Margaret Bell, as she now was, and her new husband emigrated to New York soon after their wedding. Ironically thus began Alexander Stewart's connections with, and attraction to, the city of New York.
Early in 1818 Alexander Turney Stewart became apprenticed to the grocery trade in Belfast where he resided with a Mr. Morrow in Chichester Street.
After a period of time he came to the conclusion that this was 'not for him' and spoke again deeply to Mr. Lamb who was also the executor of his grandfather's will.
Alexander was destined to be the chief beneficiary of this will. He persuaded Mr. Lamb to forward £50 to him from his legacy and with this in his pocket he set out for New York and made contact once more with his mother.
Initially he was very conscious of not wishing to be a burden on any of his relatives in the city and he earned his living for a time as a teacher. He eventually returned to Lisburn to claim the full and substantial inheritance bequeathed to him by his grandfather.
This he mainly invested in a consignment of clothing and dry goods from a firm in Rosemary Street, Belfast, and significantly also from the firm of the aforementioned James N. Richardson and Company. With this in his baggage he set out once more for New York.
In 1825 Alexander Stewart married Miss Cornelia Clinch who was the daughter of a wealthy New York ship chandler. As his business now continued to grow rapidly he continued of necessity to move to bigger and bigger premises. The year 1831 saw further inheritance coming Stewart's way from the sale of John Turney's farm at the Maze.
As a philanthropist Alexander never forgot his Lisburn home and gave hugely to it whenever he was afforded an opportunity to do so. n In 1847 he gave $10,000 to the Irish Committee which was then sitting in Dublin. There were to be further such kindnesses to follow. Meanwhile his business empire continued to grow at an astounding pace. In the year immediately after his donation to the Irish Committee Stewart opened the Marble Place which, at four stories high with each storey covering two acres, was reckoned to be one of the finest e retail premises of its day in either the United States e or Europe. Twelve years later he was to erect the largest store in the world, which had six floors above and two below ground. It employed two thousand people and was known later as Wannamakers.
During the American Civil War Stewart was very active in his support of the Union forces and provided many of the supplies for Grant's army.
At the end of the war it was estimated the Government was thus indebted to him to the tune of fifty million dollars. When he was approached about payment and reparation he replied simply, "Don't mention it", and wrote off the debt with a scratch of his pen.
His kindness was not all bestowed on his adopted - homeland, however, and the citizens of Lisburn continued to benefit from his benevolence. In 1863 he chartered a ship - The Mary Edson - and sent it to Belfast with a cargo of grain. This was sold at the Belfast Corn Exchange and a five member committee (including James N Richardson again) was empowered to use the money so raised to sustain the livelihoods of poor weavers in the Lisburn and Maze area.
Stewart's story is not without melodrama with controversy surrounding the fact that the millions he left behind were unclaimed since no living relative could be demonstrably proven to be their rightful recipient.
Similarly there is an amazing story attached to the kidnap and ransom of his corpse.
However much of our interest lies in the achievement and benevolence of Alexander Turney Stewart which was motivated by a sense of social conscience. The building of a model community of Garden City New York being a classic example of this facet of his personality.
This writer wonders whether the project might have been prompted perhaps (at least at a subconscious -level) by the ideas of the Richardson family to whom he had been close throughout his life. They, after all, planned and built Bessbrook, near Newry in Co Down, as a model village based on the Quaker principles of sobriety and honesty.
Whatever his motivation the citizens, who inhabit Lisburn in 2001, owe a huge debt to the kindness and example of one who was truly an illustrious son and who they share with Garden City New York.