LISBURN BRANCH OF LEUKAEMIA RESEARCH CELEBRATES
A QUARTER CENTURY OF SUCCESS
Golden thread of success runs through silver jubilee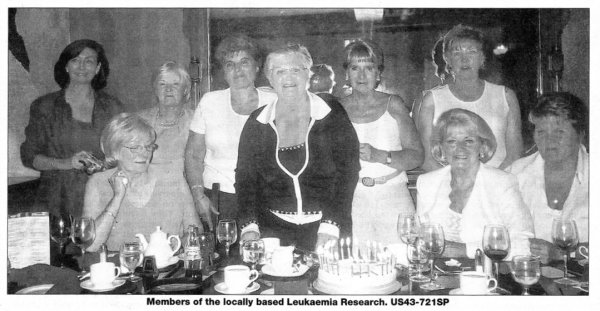 THE Lisburn branch of Leukaemia Research will hold its AGM at the Lagan Valley Hospital on November 10.
The group meet the second Monday of each month and hope this year some of the money they have raised will be used to buy a piece of equipment at Belfast City Hospital which will be used to help sufferers.
Already two new leukaemia research laboratories have been opened in Belfast City Hospital, which speeds up the detection and early treatment of leukaemia.
Members
The groups AGM will start at 8.30pm. Past and present members of the group are expected to attend.
The group was founded in 1978 after a group of people were at a formal at the Belmont and heard about Gail Collins.
The members held their first meeting at Gail's aunt Iris McCall's house at Harmony Hill and the group's first fundraising efforts raised £1,700. Since then the group has held many successful fundraising events such as wine and cheese evenings, ballots, barbeques, fashion shows, make-up demonstrations, spring fairs, coffee mornings, flag days and an annual ladies day at the local golf club. Press officer of the group Irene Richer, said the group has been so successful mainly because of the generosity of the local people.
People
"The people in Lisburn have always been very generous which is why we are still in existence today," she said. "When we were formed we thought the first event would be a one off. But the people are always very willing and helpful and that is why we are still in existence after 25 years.
"The same people seem to support us in our fundraising events every year and it is thanks to them the group is so successful in helping raise funds to fight leukaemia."
How one little girl inspired 25 years of charity
by MARY MAGEE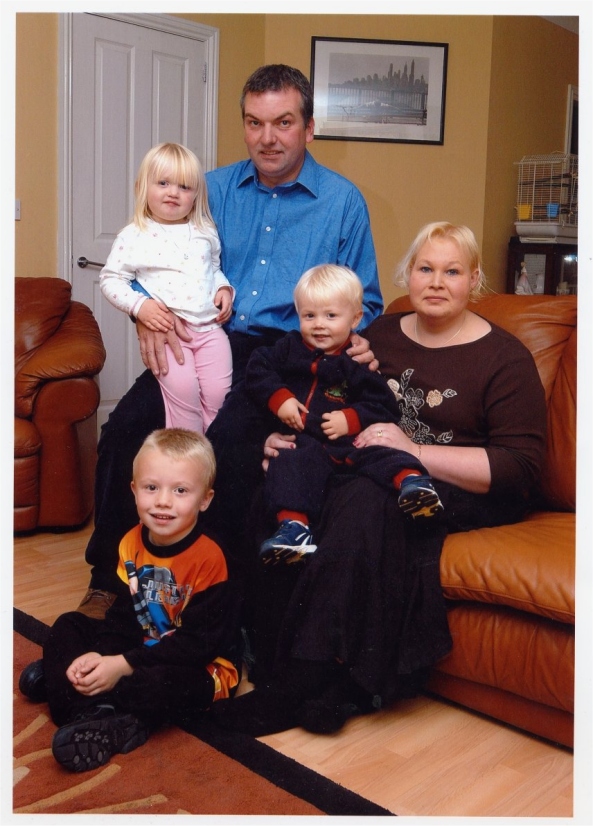 TWENTY FIVE years ago a Lisburn woman was inspired to set up a local branch of Leukaemia Research after her five-year-old niece was diagnosed with the illness.
Today both the little girl, and the group, are going from strength to strength.
It all started when Gail Stronge (nee Collins), who then lived in Harmony Hill and now lives in Lagan Green Road in Dromore, became ill.
Her mother Elva noticed a change in her daughter's character and she looked and felt unwell.
Elva took Gail to the local GP who at first thought there was nothing serious, but a series of blood tests discovered she was suffering from leukaemia and the family was prepared for the worst.
Gail had to undergo vigorous radiotherapy and chemotherapy, which made her beautiful blonde hair fall out. She went for treatment to the Royal Hospital for Sick Children for two years and was cared for by Prof John Bridges and Dr Dempsey.
It was a deeply stressful time for the whole family as the drugs made Gail ill and had to be changed. Gradually, she only had to go to hospital every six weeks, then six months and yearly.
Her aunt Iris McCall decided she wanted to do something practical. She was at a formal and was discussing it with some people. From that a new branch of Leukaemia Research was founded and it has continued to grow.
Organised
Throughout the years they have organised many fundraising events which have helped to raise £250,000.
And as the group thrived so did Gail who to the relief and delight of family and friends was given the all clear.
"Though I remember having to get medication when I was very young most of it was a bit of a blur to me," recalls Gail.
"I knew the group was set up after I became ill and because they had helped so much I wanted to become a member."
The only disappointment was that the years of medication meant Gail was told she could not have children.
Imagine
"So you can imagine my surprise when I fell pregnant. Unfortunately, I miscarried" she said.
Gail thought that was just meant to be, but fell pregnant again and her first child George was born on November 3, 1997.
"I always thought I would never have children and now my husband Gary and myself have three" she said.
The couple live in Dromore with their children George (5), Molly (3) and Harvey (2).
"I would like them at some stage to become members of the group because the group has done so much throughout the years," she said. "I too would like to be a members at some stage as well. Now a full-time mother with three healthy children.
Gail plans to start work in Sainsbury's at Sprucefield in customer services.
24/10/2003