FORMER FIRST CITIZEN IS LAID TO REST
MAUREEN McKINNEY IS BURIED AT HER BELOVED LEGACURRY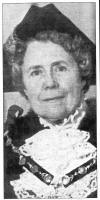 MEMBERS of Lisburn Council both past and present came together yesterday (Thursday) to pay their last respects to a former Mayor of the borough who passed away on Tuesday.
Appropriately, Mrs. Maureen McKinney who was 83 was laid to rest in the graveyard adjoining Legacurry Presbyterian where she was organist for many years.
Her family connections with the church go back a number of generations and legend has it her great great grandmother played a part in the construction of this historic place of worship by carrying stones to the site in her apron.
Mrs. McKinney was born close to the church at Duneight. Her parents were the late James Crothers and his wife Sarah who in later life became Alderman Sarah Crothers, a lady well known for her work on behalf of the Lisburn community.
During her formative years Mrs. McKinney lived just opposite Lagan Valley Hospital on Hillsborough Road.
She was educated at Princess Gardens School and as a young woman was heavily involved in church work including the Girls Auxiliary.
A member of the Presbyterian Women's Association she founded Girls Brigade companies at First Lisburn, Hillsborough and Dundrod Churches.
She married the late Rev. David McKinney in 1963 who by this stage was coming to the end of his Ministry at Dundrod where he first preached in 1925.
Following his retirement the couple moved to Clonevin Park.
Social service played a large part in the rest of Mrs. McKinney's life. The local Meals on Wheels Service was begun by her mother and when the legendary lady passed away in 1971 she took over this responsibility.
She was particularly concerned with the welfare of the elderly and worked tirelessly to raise funds for the Sarah Crothers Senior Citizens Centre which opened in 1977, the same year she became a councillor.
However, Mrs. McKinney had many other talents. She was an accomplished musician and a Laureate of both the Royal College and Trinity College.
A qualified teacher she taught at both Annadale Grammar School and Fort Hill College as well as giving private music lessons.
She was also a keen gardener who loved flowers and enjoyed both tapestry and painting.
Both she and her husband loved to travel and following his retirement they enjoyed a number of cruises.
A spokesperson for Lisburn City Council said she had been highly respected by both her fellow councillors and the wider community. Alderman Ivan Davis said Mrs. McKinney would long be remembered as a person who championed good causes, particularly Meals on Wheels'.
He said he was deeply saddened to hear of her passing and added the opening of the Sarah Crothers Hall in Warren Gardens had been due to her efforts.
This, he said, had been extremely beneficial to the whole community-Councillor Cecil Calvert said he too was deeply saddened to hear of Mrs. McKinney's death.
"It was my pleasure to be on the board of governors of McKinney Primary School as well as sitting on the borough council with her," he said.
"She was known as a very dedicated and conscientious council member and she served Lisburn well - particularly as Mayor.
"Her dedication to the community, especially to the elderly will long be remembered. I am proud to have known this very gracious lady."
14/03/2003