LISBURN'S NEW FIRST CITIZEN IS A SELF CONFESSED FILM BUFF
New First Citizen has a keen interest in the silver screen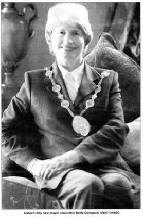 Councillor Betty Campbell who was elected to the position of Mayor at last Thursday's AGM told the Star an interest in the cinema is just one of a number of hobbies she enjoys.
She was a founding member of the Queens Film Theatre in the days when its screenings were held in a building close to Belfast Technical College and still attends shows in the now luxuriously appointed QFT off Botanic Avenue.
She is a regular at Lisburn Omniplex but realises the coming 12 months may well see a significant drop in the number of films she can attend as her mayoral diary fills up with engagements.
Mrs. Campbell is more than ready for the challenge having spent the last year in the position of Deputy Mayor.
"I was very pleased and honoured to be the first elected Mayor and first lady Mayor of Lisburn City although I realise there have been two previous lady mayors of Lisburn Borough," she said.
" I know just how busy the next year will be because I've carried out a number of engagements since I was elected last week and I know there will be a few more to attend before the holiday season starts. "I realise my main task will be to represent and promote the city of Lisburn and the council at every opportunity both at home within the province and abroad when required."
A retired health professional Mrs. Campbell still retains a great interest in people, especially the elderly.
Her nursing career began in 1952 when she commenced training at the Royal Victoria Hospital.
Even at this early stage she had already experienced a taste of life in Lisburn having served as a nursing cadet at Lagan Valley Hospital during the preceding three months.
She went on spend 10 years as a nurse at both the RVH and Forster Green Hospitals before becoming a health visitor.
She spent another decade in this role working for some of the time in Holywood and the rest in Killyleagh. The remainder of her career involved working as a Nursing Advisor with the Department of Health and Social Services at Dundonald House, Stormont.
Mrs. Campbell joined the Alliance Party shortly after its formation but admitted prior to this she had never actually exercised her franchise.
"I did think when I was much younger about the political parties which were around at the time," she explained.
"But there was never a party I felt I could give my allegiance to until the Alliance Party came along.
"Indeed, I had never voted until Alliance came into being."
As a civil servant she was unable to become politically active until after retirement.
Her first attempt to win a seat on Lisburn Council came in 1993 when she stood in Dunmurry Cross.
This proved unsuccessful but in 1997 she stood again in the Downshire area and was elected - a success she repeated in 2001.
Mrs. Campbell who also lists gardening as one of her interests has lived in Drumbo for more than three decades and left her native Co. Fermanagh for Belfast 50 years ago.
She grew up between Fivemiletown and Tempo and still has relatives living in the area. A keen walker and traveller she has visited many destinations in Europe although she admits her favourite is Scandinavia.
"I would very much like to see more of Norway although I don't think I'll have much time during the coming year," she laughed.
Closer to home she is understandably very fond of Enniskillen and Northern Ireland's 'Lakeland'.
However, she makes no secret of her love for the city of which she is now Mayor: "I really do think the Lagan Valley is very hard to beat. It's a lovely spot," she concluded.