COUNCILLOR JIM DILLON WHO RECALLED HIS BUSY TWO YEARS
IN OFFICE AT THE RECENT COUNCIL AGM.
Emotional outgoing Mayor pays tribute to late councillor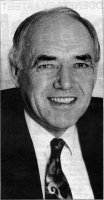 AN emotional Councillor Jim Dillon addressed Lisburn council for the last time as Mayor at its AGM last Thursday and used the occasion to pay tribute to one of its stalwarts who died earlier this year.
Mr. Dillon told those present the passing of former Deputy Mayor Councillor Kenneth Watson had caused him great sadness.
He referred to Mr. Watson as an "old and dear friend: "First we lost him from the council and then the toughest blow was when we all lost him in death," continued Mr. Dillon.
"In the midst of life we are in death and he is greatly missed. He was one of life's gentlemen.
"He was a good husband and father, a great friend and a great representative of the people. We lost a lot when we lost Ken."
However, on a lighter note Mr. Dillon said the past year which saw the borough achieve city status had been a 'highly successful one' for Lisburn.
"I must qualify that statement by saying the success was not down to me alone," he added.
Mr. Dillon said he had had the privilege of being 'frontman' but behind him there had been a `virtual army' of friends, colleagues and council officers.
"To say I have enjoyed the past 12 months as Mayor of the City of Lisburn would be a gross understatement," he added.
"I have had a ball. I have enjoyed every day of it tremendously."
Mr. Dillon said it only struck him last Thursday morning how much he was going to miss sitting in the Mayor's chair in the council chamber.
"I have a wonderful view from it," he told those present.
"I can keep an eye on everything around here. More than that it brings me to a wonderful challenge - how to manage 29 individuals all of whom think they are right and their opinion is so much more important than that of the next person.
"At times it is not an easy task. At times I have felt I have been left in charge of a kindergarten class but that is why I loved the job so much."
Mr. Dillon said to him the council represented true democracy and was an example of democracy in action. "Yes, on odd occasions it gets a little heated and out of hand," he continued.
"But as I have said that is the nature of politics- that is why I love the job." Mr. Dillon also paid tribute to the way councillors had worked together for the good of the borough.
"Amidst all the political wranglings we must remember we are a team and like a team we play in different positions," he said.
"I have been heartened to see how despite our different positions we can work together for the good of all our citizens and for me the awarding of city status will be a reminder of that team work.
"Every political opinion on this council worked together and I thank every one of you for that. You all played your part."
Mr. Dillon said he had to give a 'special vote of thanks' to his Deputy Mayor (now Mayor of Lisburn) Councillor Betty Campbell.
He described her as his `right hand woman' in the best possible sense. "You have given me tremendous help and support during my time as Mayor," he told Mrs. Campbell.
"Without your input the Mayor's office would not have been able to undertake a good many of the engagements which I carried out much to the delight of those who requested our attendance."
The former Mayor went on to individually `thank several people who had helped him during his term in office.
These included Councillor Ned Falloon, Alderman Ivan Davis, his Secretary Rhonda Frew and Council Chief Executive Norman Davidson.
He also paid tribute to the help and devotion of his son Jeremy, daughter-in-law Helen and wife Irene, his Mayoress.
He said only the partners of past Mayors could appreciate the amount of work and effort which went into the position.
"On behalf of Irene and myself I thank you all for extending this opportunity to both of us," he concluded.