TOMMY RECALLS THE COLOURFUL CHARACTERS OF LISBURN
Can you add your memories of Bridge Street?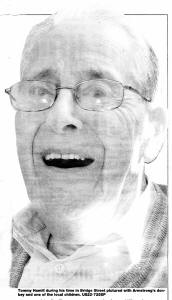 AS one of Lisburn's most historic areas is slowly brought back to life, the Historic Quarter Partnership has decided the time is right to collect together memories of Bridge Street.
'They have decided to gather together photographs, stories and memorabilia to put together a permanent record of local memories.
One man who has already agreed to help is Tommy Hamill, who spent his working life in Bridge Street.
Tommy, who is originally from Belfast, came to work in Lisburn when he was just 17 in the early 1930's, and spent his entire adult life working in the butcher's shop at 20 Bridge Street.
At 90 years of age, Tommy recently moved from his home on the Old Hillsborough Road and he and his wife, Meta, now live in Annahilt Residential Home.
Looking back on his 64 years working in Bridge Street, Tommy recalls a friendly, lively community, full of colourful characters and fascinating stories.
Tommy started off as a message boy at the butcher's shop and after many years of hard work finished up taking over the successful business.
Even today many of the characters of Bridge Street loom large in Tommy's memory. "There was an old woman who lived next door to the shop, Jenny Cunningham. She was a protestant and her husband was a catholic but there was none of the nonsense then that you hear about now" he said.
"She smoked a clay pipe and she was a real character.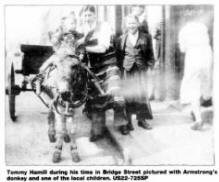 "There was also a lodging house next door. There were a lot of tramps in the village who would stay for a night in the lodging house. They would sell threads or bobbins and would only stay for a night before they moved on somewhere else. I remember I used to make sandwiches for them at the shop."
Another of the regulars around Bridge Street who springs readily to Tommy's mind was a very musical gentleman.
"I remember one man in particular, I think his name was Kidd. He would always come out of the pub after a brave few drinks and catch his reflection in a car window. For some reason he always started to pretend he was playing the melodeon."
He went on to recall: "There was always a lot of activity in Bridge Street. There were five butcher's shops and nearly as many pubs.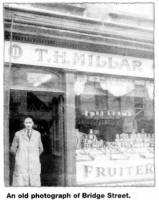 There were also grocers and a clog maker in the street because we wore clogs in those days. The men who worked in the Island Mill wore clogs and the women all wore shawls.
"There was a row of houses down by the Lagan and I remember that some people even drowned down there."
Tommy also remembers a time when cars were very rare in Lisburn and people owned horses or donkeys.
There was a man called Armstrong who had a donkey and always left it outside in the street when he went to the pub. One day I picked up a child and set him on the donkey so that we could get our photo taken.
"Farmers used to leave their horse and cart outside as well while they went to the pub. A lot of families in the street who lived in tiny houses also kept pigs in their yard. It was a wonderful age compared to today, a better era."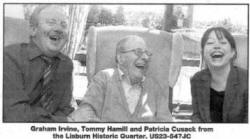 Times certainly changed for the area when World War Two broke out. Tommy recalls: "Women changed. Before you wouldn't have seen a woman near a pub but when they went out to work they started to socialise as well. "They were happy old times and its good to look back on them. People had nothing and there were plenty of difficulties but there was none of the badness that there is today.
"Everyone talked to each other and were very friendly. They were very decent people. Bridge Street was a different area and it was like a wee town of its own."
Lisburn Historic Quarter are currently in the process of compiling a booklet on Bridge Street and are eager to hear from anyone who has any memories of the area that they would like to share. Anyone who has any memories of living or working in Bridge Street or who has photographs or other memorabilia is invited to contact Patricia Cusack at Lisburn Historic Quarter, 3a Bridge Street, Lisburn on 9266 0625 or email patricia.cusack@lisburnccm.co.uk.