`NIAGARA' JIM LOOKS BACK ON LIFETIME OF CHIPS
END OF ERA AS JIM EASES INTO RETIREMENT TO MAKE WAY FOR SON-IN-LAW
by Susan Mathai
| | | |
| --- | --- | --- |
| | | |
| Jim Collins' mother Doreen, his aunt Sally and their friend Rhia Forsythe pictured in the 1930's. S15756 | Permit for sale of Fish & Chips 21 october 1948 | Niagara fish and chip shop in Longstone Street in the 1960s |
RETIREMENT for Jim Collins, owner of Lisburn's oldest running family business - Niagara Hot Food Bars - will not spell an end to his interest in chips However, it'll be computer chips not those of the potato variety that will occupy his spare time now.
One of the reasons for this is that Jim, who has had a lifelong interest in telecommunications and computers, is now also the proud owner of the internet domain name www.lisburn.com which should, through the mere click of a button, lead to many information and advertising opportunities.
Nevertheless for many in Lisburn Jim's retirement from the fish and chip shop at 2A Tonagh Drive, opened by his father Isaac in 1948, will mark the end of an era.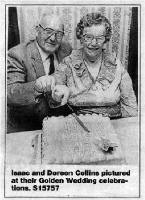 There are no doubt quite a few people in the town who will remember Isaac, his wife Doreen and sister Sally and their West End grocery store on Longstone Street.
"The grocery business carried on during the War years and survived through those difficult times by sheer dint of hard work," said Jim.
"In 1945 my father applied for a licence to sell ice cream which had been unobtainable during the War and an ice cream and confectionary shop was started in Tonagh Drive.
"Then in 1948 he applied to start a fish and chip shop and having been granted a licence the ice cream shop was converted."
Converted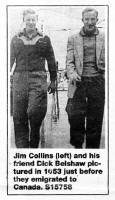 Jim recalls how the first fryers in his father's chippie were converted from a coal range to electric in which the fat was heated by radiant heat elements.
"It was not a very successful arrangement as it kept breaking down and was replaced in and around 1952 by a Henry Nuttall range," he said. In 1953 Jim left his family and friends, the chip shop and Lisburn, and immigrated to Canada.
"I worked for telecommunications companies over there - Bell Telephone, Canadian Marconi and then for ballistic early warning systems for mid-Canada and the Dew Line," he said.
However, after 11 years away the pull of home proved too strong and Jim returned to Lisburn. Around the same time his father was awarded a franchise to run a sub-post office.
Father and son then also decided to expand and refurbish their chip shop at Longstone Street.
"The work was carried out by Mr Leslie Bell of Hillsborough and a new top of the range Frank Ford fryer was installed," said Jim.
"Also the name Niagara was decided upon for the shop because of my time in Canada.
"Then in 1964 it was decided to rebuild again as the business had become very successful. Mr Charles Freel whose daughter now works in Niagara carried out the building work and George Nicholl of Shopfitters supplied the interior.
Extension
"Subsequently, in 1968 the grocery business which had been sold to Mr Liam Boyle was bought back from him, the shop was used as a post office and an extension put on the fish restaurant as well."
"When my father retired the post office was sold because I was more interested in the food business," said Jim.
"Over the years the business underwent many changes and now there are three branches of Niagara - two in Lisburn at Tonagh Drive and Market Place, and another at Kingsway, Dunmurry."
At present the Niagara at Tonagh Drive is undergoing major refurbishment in preparation for its takeover by son-in-law Sean.
But the family business ethos is to live on, with Jim still managing the other shops and ensuring that the Niagara tradition of delicious fish and chips, burgers and Southern Fried chicken, not to mention world famous pasties lives on.
"We have people ordering pasties from us via the internet from as far away as Canada," said Jim. "We make them here and then send them over frozen."
Jim claimed that keeping all the family's chip shops going had been hard work over the years, but enjoyable too.
"I've had a good time meeting so many people, but now hopefully I'll have more time to spend with my wife Elva and grandchildren, as well as on the computer and at golf?"
21/04/2000