RECALLING LAMBEG OF 50 YEARS AGO
LOCAL WOMAN RECALLS THE DAYS OF TILLEY LAMPS AND BATTERY RADIOS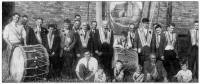 Lambeg LOL 912 in the early 1960's. US44-7066P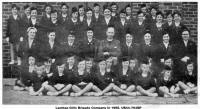 Lambeg Girls Brigade Company in 1956.US44-704SP
LOCAL woman Roberta Pithie has fascinated Star readers on previous occasions with her reminiscences of life in Lisburn in the good old days.
This week she recalls growing up in the Harmony Hill area of Lambeg during the 1950's and early 1960's.
"I suppose when we look back to the years when we were children and teenagers we tend to think times were better than they are today.
I must admit to that view myself. I grew up in the Lambeg/Lisburn area in the years following the end of the Second World War.
My generation grew up before television and in many cases before electricity in the home.
We had a battery operated radio, the battery had to taken to Just's in Seymour Street to be charged.
On a Saturday evening our neighbours gathered in our farm kitchen to listen to the McCooey's, the Belfast equivalent of today's Coronation Street, and a must on Saturday evening.
There was great craic on these evenings sitting in the glow of the tilley lamp with the kettle singing on the range.
Everyone got a 'cup of tea in their hand' and a piece of soda fresh off the griddle.
Neighbours did visit then, not arranged visits, just 'dropping in' for a bit of a yarn, the door was always on the latch.
We lived on Harmony Hill and quite often my mother and I went across the field, just below where the Arts Centre was, to my Aunt Anna's.
She wasn't really my aunt but because children did not address older people by their Christian names honorary titles were bestowed.
Mother and I climbed a five-bar gate, crossed the field and then got into Magee's lane (now Fairtree Hill) by crossing a plank over a sheugh which is a narrow waterlogged gully for the benefit of the uninitiated.
I disappeared into Magee's house as Jean and I were about the same age and we played while the adults talked.
My chum Isobel lived in a lovely cottage on the 'broad road', the stretch of main road from Lambeg to Lisburn.
Isobel came to our house every Friday night and then her mother came to collect her at supper time. Few people had cars so we walked everywhere and this is where the Friday night ritual came in.
My mother and I set off with Mrs Clarke and Isobel to 'leave them up the road a bit' and when we got to the half-way mark about J D Barbour's house, Dalboyne on the Belsize Road, we turned back.
Now if the mothers hadn't finished their conversation Mrs Clarke and Isobel turned back with us and left us back along the road.
The finishing point of this walk about came when the lights went out at midnight and we had lost track of who was leaving who where.
When Isobel and I were about thirteen we were allowed to go to the Saturday matinee in Lisburn picture house.
I think it was nine old pence to get in and on the way home we got chips in Montgomery's.
On Saturday night we were allowed to go to Isobel's sister's house to see Dixon of Dock Green and the Billy Cotton show, Peggy and jock having aspired to the luxury of a television.
Our lives revolved around Lambeg Parish Church and its activities.
Children went to Sunday School twice on a Sunday and Church on Sunday morning, mothers belonged to the Mothers'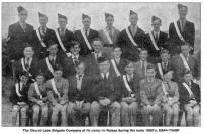 The Church lads Brigade Company at its camp in Ralsay during the early 1950's US44-705SP
Union and possibly the Bible Class, girls were in the Girls' Brigade, boys were in the Church Lads' Brigade and most fathers were in LOL 912.
I loved my night to the GB and if I got chosen for the competition team I was delighted.
Lambeg was a country company and the big stars were First Lisburn and Sloan Street Presbyterian but that did not lessen our enthusiasm.
Excitement knew no bounds coming up to our annual display, one would have thought we were appearing at the London Palladium.
Sunday School teachers were a big influence on us and because they taught for many years they became part of the fabric of our lives.
I never forgot my first teacher, the late Miss Mary Magee, and then there was Bobby Thompson, Una Stewart (now Mrs Mcllroy) and my last teacher was Doris Elliot (now Mrs Wright).
Miss Margaret Downer played the piano and taught the junior choir and looking back I don't know how she put up with us.
My lasting memory is of the annual Christmas concerts. Christmas parties for the Sunday School took the form of games followed by a sit down tea and then the pupils staged a concert for the parents.
Miss Downer took us to her lovely home at Crome Hill, situated on the hill overlooking the church, to practice.
I remember being awe-struck at the beautiful drawing room with its grand piano, and there we practiced our songs and sketches.
None of us were particularly talented except Jean Magee.
Jean had a great singing voice, a big personality and was a natural on the stage - her Al Jolson impersonation, featuring Jean resplendent in black tie and tails, was quite something.
Another evening looked forward to was a guest tea usually held by the Lodge to raise money.
I'm not sure exactly how the system worked but, for the benefit of the generation who never heard of a guest tea, I think a number of ladies undertook to cater for a table of say ten people who paid to come along.
The name of the guest tea could vary according to the season which dictated the flowers as centrepieces - daffodil teas, primrose teas, etc.
After the tea, where each lady vied to outdo the spread at the next table, there was a concert by local artists.
The programmes were enjoyed even if the content was fairly predictable.
Somebody always sang 'Bless This House' and the 'Holy City', there was a ventriloquist who always finished with 'Show Me The Way To Go Home' or 'Among My Souvenirs' and there was usually a lady who gave recitations.
I may add that singers were judged on their rendition of 'The Holy City'.
There was a seasonal dress code among the female section of our wee community. It was practically a must to have something new to wear for Harvest Sunday and Easter Sunday - not to mention Empire Sunday.
Empire Sunday was the Sunday nearest Queen Victoria's birthday (May 24) and was the day of the Orange service and parade to Lambeg Church or church field if the weather was good.
It was nicknamed 'Ascot Sunday' as it was like a fashion parade for the ladies.
In the 50s and early 60s hats and gloves were worn with the Sunday outfit and some girls even had umbrella covers to match their outfits. It was an afternoon to see and be seen.
Because we lived in the country our city relatives and those from Glasgow visited regularly, particularly in the summer months. Those were great occasions.
The house was bursting at the seams, there were half a dozen conversations going on at once, the dogs were in the middle of everything in case they missed anything and the pet sheep was at the back door assuming that someone must have her favourite food, Fry's Cream Chocolate.
Very unhealthily all the men smoked, creating a fog in the kitchen. My grandmother who was blind and was in her nineties held court and the atmosphere was marvellous.
Our fun and entertainment would not appeal to today's generation, we are all children of our times, but I think we had a great contentment which came from a sense of continuity and security that somehow seems to have got lost."