SAM BRINGS DOWN CURTAIN ON LONG AND SPECIAL ASSOCIATION
*DARTS*
Local man ends stint as president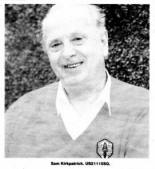 LISBURN man Sam Kirkpatrick, one of the most influential figures in the local darts scene for half a century, has brought the curtain down on a long and memorable association with the Northern Ireland Darts Organisation.
The body's president of 12 years and former chairman announced his retirement last week, signifying the end to a career which has spanned six decades.
Sam, the darts correspondent of the Ulster Star and the NIDO's press officer, has played a leading role in the organisation of local darts since its inception as the Northern Ireland Darts Association in 1959.
"I was the only local darts correspondent so I knew all the leagues which were operating throughout Northern Ireland," he explained.
"I was told to inform the leagues and clubs about starting a governing body in Northern Ireland and 12 leagues from right across the Province got together to form the NIDA. It lasted until 1972 when they lost their sponsorship and the body folded."
In the intervening years between 1972 and .the formation of the NIDO, Sam continued to play a prominent role in national darts as well as continuing to contribute strongly at local levels.
Despite the continued growth of darts a national organisation was still conspicuous by its absence but that all changed with the initial formation of the Ulster Darts Association and then the NIDO in 1975.
"We formed the NIDO in 1975 with 22 leagues and it has lasted right up to today," continued Sam. "Today we have over 100 leagues and it has gone from strength to strength.
Taken
"We have players from Northern Ireland who have been in world championships and have taken part in major championships in Europe and in England. We have at least a dozen internationals from Area Five South Antrim who have played for their country and Francis McMahon of Arms has played since 1982."
After such a long association with darts on local and national levels Sam admits the pressure has taken its toll.
"I have been associated with the local league since 1952, I have held all the top offices but whether I will remain I don't know," he said.
"The work is very time consuming with travelling to different parts of Northern Ireland and going to different functions. I have been associated with darts for 52 years and it's difficult to think of life without it.
"It's given me a lot of happy memories. I have been to places like Las Vegas to watch darts and I have seen world championships, European championships, national championships and home internationals."
Sam, who was previously NIDO chairman for eight years and vice-chairman for 10 years, has little hesitation in identifying the highlights of his career.
Bringing across famous names like Eric Bristow, John Lowe and Phil Taylor could simply not be surpassed.
"I'm sad in a way but in other ways I'm not, the one thing that will stand out is that during my term as president I have had 100 per cent support from every officer and from every club in Northern Ireland," he added.