ENGLISH FAMILY SEARCHES FOR ROOTS IN LISBURN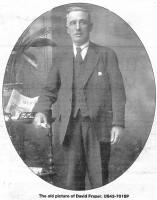 AN English woman researching her family tree is keen to hear from anyone in Lisburn who can help her with information on her grandfather, David Frazer.
Deborah Frazer knows little of her ancestor except that he was born in Armagh and lived in Lisburn for most of his life.
He was born in 1872 and is believed to have died in 1951. The only information the Frazer family have is that he worked for a newspaper which the family believe may have been the Daily Sketch. Deborah, who is tracing her family roots, says most of her relatives now live in England.
Her interest in family history began when a distant cousin on her paternal grandmother's side was doing some research and found some old photographs. Deborah was so intrigued that she decided to do a little digging of her own. Her father, Alan, explained: "The search for the Frazers was initiated by an address in an old address book. "We found the name of a lady in Columbus, Ohio USA whom my mother had corresponded with up until to the end of the Second World War. "We did not know what the link was to my mother or father and initial enquiries suggested she may have been my father's sister. "However, a casual internet enquiry produced a response from two distant cousins who provided a wealth of information about the lady in question and her relatives, identifying her as being a cousin of David Frazer.
"From this start and other enquiries at Registry offices and church a family tree has been developed and has led back to Ulster to fill in some of the gaps."
So far their research has taken them as far back to William Frazer (who was born 1812) and Letitia Singleton (born 1820). William had a son, William jnr who was born around 1842 who married M a r y Donaldson (born around 1842).
"We would love to make contact with anyone who can help research these families and share information, as we still have a lot of gaps to be filled," Deborah explained.
Anyone who can shed any light into David Frazer and help the family with their research is asked to contact Deborah via email on deborah.frazer@btinternet.com
22/10/2004