JULIE SPENCE HEARS HOW PUPILS HOPE TO MAKE HISTORY BEFORE THEIR LAST DAY
Farewell Service for St James's Primary School
TO commemorate the final days of St James's Primary, the school has organised a special 'Farewell Service'.
This will take place in St James's Church, Lower Kilwarlin next Friday (June 6) at 7.30pm.
Reverend Pierce will speak at the event and all the children will be heavily involved.
Donning Victorian costumes they will relive the history of the school and will give snapshot insights into the lives of the pupils. The school will be involved in bringing drama, song, dance and sports to the stage. The evening will be rounded off by an assembly and praise service.
A very warm welcome will be extended to all past pupils, parents and friends of the school.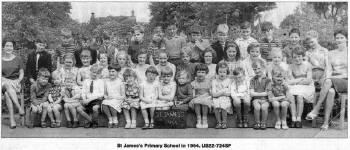 Doors at Saint James's Primary set to close for final time
AS St James's Primary at Kilwarlin prepares to close its doors for the final time there's been an appeal for information from past pupils or friends of the school who have stories to tell, memories to share or any photographs and memorabilia which could be used at the farewell service due to take place next Friday (June 6).
Anyone who can help make this a truly memorable occasion is asked to contact the school directly.
Pupils of St James's Primary with their annual Christmas Cake tradition. US22720SP
Edward Caves and Miss Heenan with pupils of St James's PS
In-1938. US22-723SP

Pupils set for run

AS the final bell rings at St James's Primary, the school are coming together for the last time to celebrate their annual sports evening.

Weather permitting, the sports evening will be held this year on June 17 at 6.30pm at the Broomhedge annex of Brookfield School
Meanwhile, as they prepare for the final school bell on Friday June 27 pupils from the Reception Class to Primary Seven are determined St. James's School will not be forgotten.
They fully intend to make history as they say goodbye to a place of learning which has served the local community since 1845.
Three very special events have been organised to mark the end of 158 years of education at the site.
Performances of the musical 'Mouse Alert' at the Civic Centre in April played to packed houses and the cast included children from the Reception stage to P7.
As well as the farewell service a sports evening has also been arranged and Principal Mrs. Joan Shields encouraged as many people as possible to attend. "Please come along, renew friendships and enjoy memories of life in this happy and successful school," she said.
"We are finding it difficult to believe St James's is coming to a close.
"However, we are really looking forward to the challenge and wonderful facilities of a new purpose built school ."
As one of the oldest primary schools in the South Eastern Education and Library Board area literally hundreds of children have been educated at St James's including grandparents and other relations of pupils still attending.
The original building was provided by the Marquis of Downshire and St. James's was connected to the Church Education Society until it became a National School in 1878.
Principal Mrs. Joan Shields said latter day children were always fascinated to realise some of their predecessors attended the school during the terrible Irish famine.
An innovative event occurred on September 25 1878 when an evening school was inaugurated.
Some 46 men enrolled most of whom were weavers and farm labourers.
The men were taught reading, writing, spelling and arithmetic and according to the school records the evening school was still in existence in 1886.
The earliest records at St James's show that Henry Sherlock was appointed as Principal Teacher on March 11 1878.
Inspection reports at the time were harsh and one in particular dating back to March 1879 when 'payment by results' was in force noted: "Penmanship in all the classes in very bad - should I find this so again I shall recommend that no fees be paid to the teacher for this subject."
Thomas Ingram became Principal in 1892 and held the position until 1934.
Miss Mary Jane Heenan was appointed assistant in 1892 and remained at St. James until 1943.
The Inspectorate reports continued to be very frank.
In 1914 one inspector wrote: "Slates are very much in evidence in all classes. They should be dispensed with."
In 1923 St James's became a Public Elementary School, with the Marquis of Downshire handing over the lease of the school premises to the Down and Connor and Dromore Diocesan Board of Education in 1925.
Between 1934 and 1942 the Principal teacher was Edward Caves and during the Second World War, evacuees caused school numbers to grow in four days from 40 to 61.
One of the evacuees at James's in 1941/1942 was Ivor Mills, a former newsreader on Independent Television.
Mrs. Shields commented: "By June 13 1941 there were 95 children on roll. It is difficult to conceive how 95 children were taught in two classrooms." Over the years the school has been extended and in recent times four mobile classrooms have been added.
It has always had close links with the local community and the nearby St James's Church is used regularly for weekly assemblies and special services.
The current enrolment is 127 and the school takes pride in its warm, friendly ethos.
The high standards set were recognised in 1990 and 1997 when it received the prestigious National Curriculum Award in 1990 and 1997.
Staffing levels have increased dramatically since the school opened in the 19th century.
Mrs. Shields is assisted by Mrs Rosemary Greer, Vice Principal.
Assistant teachers in the school are Dorothy George, Jaclyn Wortley, Ruth Sterling and Alan McQuitty.
There are two part time members of staff Helen Donella and Ida McCready.
They all work together to ensure each child reaches his or her full potential.
Mrs Shields also paid a warm tribute to the non-teaching staff: "They play an integral role in the smooth running of the school," she said.
"Mrs Wilma Martin, secretary, and Mrs Eveline Johnston, caretaker and dining assistant, together have given almost fifty years service to St James's."
Thomas Ingram and Pupils of St James's PS in the early 1900s. US22-725SP
School teacher at St James's, Miss McMaster in 1954
with her pupils. US22-722SP
Memories recalled at St. James's farewell service
THE Farewell Service for St. James's Primary School held in St James's Church, Lower Kilwarlin, on Friday, June 6 proved to be a memorable occasion.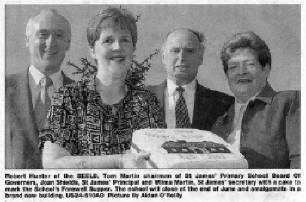 A congregation of current and past pupils, staff, parents, SEELB Board Officers and friends gathered to give thanks for 158 years of education at St. James'.
St James's Church was quickly filled and the service was also relayed into one of the mobiles in the school to facilitate a larger congregation. After a welcome from Rev David Pierce, rector of St James's, hymns of praise included, To God be the glory, Now Thank We All Our God and Tell Out My Soul.
Bible readings were read by Rachel Gardiner (P7 pupil) and Mrs Dorothy George, a member of current teaching staff. Many of the present pupils in P5, 6 and 7 told the congregation about what makes St James's so special to them in an item called the 'The Kilwarlin News.'
Rev William Henry, Minister of Maze Presbyterian church, and Ben Coulter, Matthew Moore and Sarah Quinn led the congregation in prayer. During his address, Rev David Pierce gave thanks for St James's Primary School, both past and present.
After the service a variety of speakers told the congregation of their special memories. Mr Eric Caves, a past pupil whose father was a past principal, Mrs Geraldine Treacy, current PTA Secretary, Mrs E Donnell, Past Principal, Mr R Hunter, Primary Adviser, SEELB, Mr Thomas Martin, Chairman of Board of Governors and Mrs Joan Shields, current Principal all spoke of their valued experiences during the long and successful life of the school.
Highlights
Mrs Rosemary Greer highlighted the tremendous contributions made by Mrs Wilma Martin, secretary for 26 years, and Mrs Eveline Johnston (caretaker and dining attendant for 20 years) to the life of the school.
Gifts were presented by to Mrs Martin in recognition of her long and valued service. Unfortunately Mrs E Johnston was unable to be present due to illness.
Gifts to show appreciation of her valued and caring work in St James's will be presented at a final assembly in school, later in June.
Mr Tom Martin, who has served on the Board of Governors at St James's for over 30 years in recognition of his dedicated support for the school. Mrs Shields, the current Principal was also given gifts of appreciation.
A wonderful supper was served by members of the PTA committee and parents, and a Farewell cake was enjoyed by all. Everyone enjoyed renewing friendships and sharing memories of St James's and an exhibition of old photographs and memorabilia provided a source of lively reminiscence for all.
30/05/2003