Former pupils invited to take part in centenary celebrations
THE PRINCIPAL of St. Joseph's Primary School in Lisburn, Maria Gough, is inviting all former pupils to join them in a series of special celebrations in the months ahead to mark the school's centenary.
It all starts with a centenary mass and evening of nostalgia on February 12 at 7pm in St. Patrick's Church.
The following week, on February 22, there will be a formal dinner dance at the Europa Hotel. Tickets are £25 and are available from the school.
Then on April 3 a musical extravaganza will be held in Lisburn's Island Centre, hosted by local celebrities Donna Traynor and Cecilia Daly, and featuring the musical talents of past and present pupils.
A great balloon race and sports day will be held in June as part of the celebrations.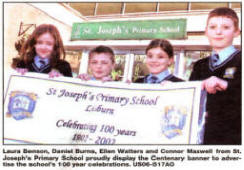 If you are interested in participating in any of the celebrations you are asked to contact with the school on 9267 4901.
Invitations have also been sent to other local primary schools inviting them to take part in the many sporting competitions over the next few months, with specially made centenary trophies as prizes.
The Sacred Heart of Mary, which has run St. Joseph's Primary School for most of its 100 years, was founded in February 24, 1849 in Beziers in southern France.
The sisters came to Lisburn some two decades later to open up a new all-girl primary school in the town in February 2 1871.
It opened first in what was known as the 'old ironing room' underneath the chapel grounds at their convent at Castle Street.
The numbers at the school had grown considerably throughout the years and so in 1902 a purpose built school was opened in the grounds of the convent.
It was called St Joseph's Convent Primary School or The Convent as it was more affectionately known.
In 1963 new premises were built which is where the present building stands today.
It became co-educational in 1970 when the first boys were admitted.
The Sacred Heart of Mary Order stewarded the school for most of the century and it was only in 2000 that the order are still maintained today with Sister Mary continuing her work in education and as a volunteer support teacher on a daily basis.
Sister Marie works out in the mission fields and keeps regular contact with the school and the children often support her work by raising funds.
Former principal Sister Denise also keeps in regular contact with the staff and children.
07/02/2003