STANLEY WYLLIE IS LAID TO REST AT MAGHERAGALL
Former Ritz cinema organist passes away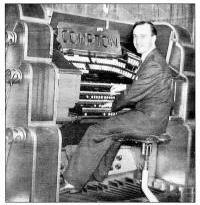 LISBURN musician Stanley Wyllie, whose name was synonymous with the world famous ' organ at Belfast's Ritz Cinema,. passed away recently at the age of 82. He is survived by his wife Sheila St. Clair, the well known author of several books about the paranormal, and his son Stephen, a vet. with the Department of Agriculture.
His funeral took place at Magheragall Parish Church, his place of worship for many years, and he was laid to rest in the adjoining graveyard.
Mr. Wyllie was born in Portsmouth, Hampshire just after World War One. He moved with his father Earnest, a civil servant, and mother Annie to the - north of England at an early age and received much of his education at schools in the Leeds and Newcastle areas.
After leaving grammar school he decided he wished to pursue a musical career for which he trained in both Leeds and Liverpool.
He went on to become a theatre organist with 'Black's Regals', a large north of England cinema chain. However, by this time the second world war was looming and his career was put on hold when he volunteered to join the Royal Air Force.
He saw a great deal of active service over Europe and following D Day was involved in the Allied advance through Germany.
As the war drew to a close he had the opportunity to play a number of large organs in the world famous German music halls.
He was also asked to become a member of staff at the British Forces Network and produced a large number of musical programmes.
Stanley returned to England in 1947 and joined Associated British Cinemas in Torquay as an organist and musical director.
He and Sheila, the sister of his best friend, were married in 1948.
The couple came to live in Northern Ireland in 1952 when Stanley took over from Joseph Seal as ABC's senior organist in Belfast.
When Ulster Television began broadcasting in 1958 he was invited to join the company as a Transmission Controller.
He remained a UTV employee for 28 years and during this time notched up more than 1,000 broadcasts.
Initially, many of these, including his well known St. Patrick's Day broadcasts, involved the organ at the Ritz.
However, the world famous instrument was damaged beyond repair in a flood in the mid-1960s.
He retired from UTV in the late 1980's and Sheila explained the couple decided to stay in Northern Ireland as their son had been born in the province and they 'really had very little requirement to move back to England'.
She spoke movingly of her husband with whom she said she enjoyed a 'very compatible marriage' and explained he passed away 'quickly and very quietly' on the morning of March 24.
"He had no major health problems but he just seemed to fade and get very tired," she added..
18/04/2003