TALES OF THE GREAT WAR MAKE THEIR WAY BACK HOME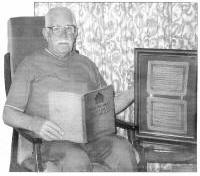 A REQUEST from Canada has prompted a man to present a book which he inherited to a national Canadian History Project in British Columbia.
Mr. Eddie Brown, a well known retired businessman in Saintfield, read about the request in a local newspaper for materials relating to Canadians who had served in the First World War.
He contacted the Project Director at the Malaspina University in Nanaimo, British Columbia to let them know he had inherited the book entitled "With The First Canadian Contingent" published in September 1915 on behalf of the Canadian Field Comforts Commission.
The book was intended as a slight record of the 1st Canadian Contingent who endured the hard winter on Salisbury Plain after arriving from Ottawa in November 1914 and also as a means of adding to the funds of the Canadian Field Comforts Commission for the purchase for the Canadian Division at the Front of extra comforts for the men.
Still in very good condition, the book contains many original photographs together with detailed accounts of the Regiment in their Valcartier Camp near Quebec before leaving in August 1914 on their way to Plymouth where they arrived at the beginning of November.
According to the letters included in the book, life on Salisbury Plain was very different to what they had left behind at Valcartier Camp which stood on a sandy, slightly hilly plain below the Laurentian Mountains.
Electrically lit with purified water and baths for every unit, a post office and hospitals, telephones, a bank, canteens for soft drinks, goodies and smokes, it was scrupulously clean with metal incinerators lining the streets to consume the leftover food and carts removed all refuse each night.
On the other hand, with Salisbury Plain's roads often impassable from mud and water and the soldiers being overcrowded in huts or tents and sickness so rife due to exposure and damp, the Canadians were said to have never lost their cheerfulness and courage.
Though their much longed for home mail often went astray, they made the most of what fun was to be had and what work they could do they did. Their only real complaint was that they were 'not at the great, fierce work which they came for'.
Other letters from the soldiers who left for the front in February 1915 describe the horrific crossing from England to France on a cattle boat which was hit by a storm and even included an update on the little kitten which had travelled from Valcartier Camp to Salisbury Plain to France.
The letter stated: "It has travelled everywhere with us. One man carries it on top of his pack. It goes into the trenches with him and seems to enjoy itself and be quite happy."
Another amusing letter from an officer of 90th Winnipeg Rifles stated "We have an Irishman in command so the men had to celebrate St. Patrick's Day somehow. They started off by sticking the Irish Flag, the Union Jack and the tricolour on the parapet. Where they conjured them from the Lord only knows! They then sang the National Anthem, the Marseillaise, the Maple Leaf and Wearing o' the Green. The Germans riddled the tricolour with bullets but left the other two alone."
The book makes fascinating reading and before it leaves Northern Ireland for the last time to return to its roots in Canada, I spoke to Eddie Brown who is delighted it is going to a good home.
He said "I found it in a trunk in my aunt's attic in South Belfast after my Uncle Peter's death in October 1963 and have had it ever since.
He had joined the Boys' Service at 16 and later the Royal Artillery Regiment as a gunner on 24th March 1899 and also went on to train as a shoeing " , Smith or farrier.
"According to his Army Discharge Certificate dated 23 " March, 1911 which I also have, he had served 12 years in total, spending six years and one hundred and eighty two days abroad. He campaigned in South Africa in 1899 and was mentioned in despatches for good service in action on 31 March, 1902.
"He had also received the Queen's South Africa Medal with clasps 'Cape Colony', 'Orange Free State' and 'Transvaal' together with the King's South Africa Medal with clasps 'South Africa 1901' and 'South Africa 1902'.
"On leaving the Army he went to Canada and joined the Mounties as a farrier. It was while he was there he had bought this book which is now going back to its roots. And I am very pleased to be able to let the Canadian Letters and Images Project have it as a gift.
"When he retired and came back to live with his sisters in South Belfast, I was a young boy. I remember Uncle Peter being very fit and very smartly dressed walking to the Library in Royal Avenue every day to read the newspapers.
"Something else I found in the trunk after his death was an envelope with two pieces of khaki material with poems he had written on them with copying ink pencil and sent to his parents Samuel and Mary Brown in Belfast while he served in South Africa. I pressed them and have them now framed along with his medal ribbons."
The poems are:-
South Africa. A Soldier's Compliments

Compliments of the season to you he sends

A soldier who is not with the best of friends.

On a piece of khaki from an old coat he'd worn.

Discarded because it was tattered and torn.

It's not a gilt edged or highly priced card
But it carries his best and kindest regards.

P. Brown. Ventursdorp. June 1901.

Hands Across the Sea

No matter the length or the breadth of the sea

Whatever the distance how vast it may be.

I still have a notion whatever may betide us,

The oceans not made wide enough to divide us.

P. Brown. Klerksdorp. 24.7.1901.
Dr. Stephen Davies the Project Director is very appreciative of Eddie's generosity and said a significant number of those who served with the Canadian Forces were recent immigrants to Canada, so that many of the letters to family and friends came back to the United Kingdom.
Any photographs, letters or information contained in the book from those who served with the Canadian forces would allow families to share the materials from their family's past.

Mr Eddie Brown with the book he is gifting to the Canadian History Project in British Columbia. He is also holding the framed poems written by his late uncle on pieces of khaki material. US38-71 9SP
19/09/2003