The Colvill Family in Dromore, Co. Down in the Eighteenth Century
BY F. G. WATSON
The Colvill family was connected with Dromore over a period of eighty years, but during that brief span they exerted an influence over the local Presbyterian congregation which was to affect its future and involve it in the wider history of the Presbyterian Church in Ulster. The first of the name at Dromore was;
REV. ALEXANDER COLVILL
Alexander Colvill was minister of the Presbyterian congregation of Dromore in the County Down (1700-1719). He was born in Scotland and obtained his M.A. at Edinburgh in 1689. On the occasion of his marriage to Christian Thompson in Edinburgh on the 4th August 1692 his occupation was given as that of a schoolmaster. He was ordained at Newtownards on 26th July, 1696 but removed to the congregation in Dromore in 1700.
Colvill was a member of the Belfast Society, a society which was formed about 1705 and comprised Ministers and students who met to discuss, confer and debate on matters of religion and operate in concert for the purchase of books. The members came from various Presbyteries and Belfast being central to their various residences they met there and became known as the Belfast Society. Colvill died prior to the major Synodical controversy which involved that Society.
Mr. Colvill attended regularly the meetings of the General Synod of Ulster, served on various committees and was chosen Moderator on 23 June 1713 at Antrim. The following year he opened the Synod at Belfast by preaching on 1 Timothy 4:16, "Take heed to yourself and to your teaching; hold to that, for by so doing you will save both yourself and your hearers." He died suddenly on 1st December 1719 in his pulpit at Dromore while conducting the service and was buried the following day.
Alexander Colvill had, as far as is known two children. His daughter Christian married John Bradner who was recorded as a student of Divinity in Dromore in 1714; and his son Alexander who succeeded him at Dromore.
DR. ALEXANDER COLVILL (1699-1777)
Dr. Alexander Colvill was the son of the Rev. Alexander Colvill above mentioned. Colvill graduated M.A. at Edinburgh on 2nd March 1715 and was studying medicine on the death of his father. The Dromore congregation urged him to become their minister and he went through a theological course at Edinburgh under William Dunlop. He acted as tutor to the family of Major Hay of Parbroath for a while and he signed the Westminster Confession of Faith and was licensed by the Presbytery of Cupar in Fife on 19th June 1722.
On being called to Dromore he applied in 1724 to the Presbytery of Armagh to ordain him as minister of Dromore. The Presbytery refused on the grounds that he had declined to renew his subscription and Colvill appealed to the Sub-Synod and then to the General Synod. Fearing an adverse decision at appeal he left for London, with the consent of his session in December 1724 and was ordained by ten non-subscribing Presbyterian ministers in the vestry of Dr. Calamy's Church; Joshus Oldfield, the leader of the London nonsubscribers, presiding.
He returned to his congregation in Dromore and they applied to the Presbytery of Armagh to install him as they now claimed that all difficulties in the way of his ordination had been removed. The Presbytery rejected outright the application and refused to receive him as a member because Mr. Colvill, contrary to his promise of subjection to the Presbytery, without their knowledge, or consent or any certificate from them had withdrawn himself from under their conduct, obtained ordination and on his return exercised his ministry in Dromore a vacant congregation under their inspection without their consent, or appointment and without having produced his Certificates before any of the Synods.
In June 1725, Colvill's appeal from the sentence of the Synod of Armagh was prosecuted by Robert Hamilton, John Beard, Adam Keatley, Jam. Ker and George Woods commissioners who appeared for the majority of the congregation and the minority were represented by Captain John Magill and others who earnestly desired that Mr. Colvill would not be settled in Dromore for it was against their consciences to submit to his ministry.
The Commissioners were asked if they would subject themselves to the judgement of Synod on this affair and they answered in writing that they would do all they could for the preservation of the peace order and just authority of the Church but did not indicate that they would accept the judgement. The Synod now decided to consider the conduct of Mr. Colvill and the people of Dromore before it entered into a discussion of the appeal. This decision was minuted and read to Colvill and his commissioners who were asked to attend on 22nd June, but on the appointed day Colvill did not appear and his commissioners requested a dismiss from the General Synod. This request was refused, and in the absence of his commissioners Colvill was suspended until the first meeting of the Synod of Armagh in October, and afterwards until he give satisfaction to the Presbytery of Armagh for his irregular practices.
The Synod then agreed that Mr. Samuel Henry should go to Dromore and preach in their Meeting House and intimate the sentence of Mr. Colvill's suspension to that congregation, and if the major party refused to give him access to their meeting house, (which was to prove the case) he was to preach to the minor party. Mr. Henry was to convey the sentence of suspension to Colvill and a letter was to be written to the people of Dromore to exhort them to their duty.
Colvill's rebellion was virtually complete; he continued to preach to his congregation disregarding the sentence of the Synod and applied to the ministers in Dublin to receive him into their Association and to install him. A deputation of three ministers, Choppin of Dublin, McGachy of Athy, and Woods of Summerhill, together with Smyth from the Munster presbytery journeyed North and installed Dr. Colvill as the minister on 25th October 1725. The congregation became a non-subscribing congregation but continued to use old Meeting House until a new one was erected near the Pound at the head of Meeting Street then called Pound Street. Colvill became a member of the Presbytery of Antrim and represented them in consultations with the General Synod.
Colvill's first publication was the funeral sermon preached at Downpatrick, March 24, 1744 for the late Mr. Thomas Nevin a gentleman who featured to an even greater extent in the Non-subscription controversy. His other publications were (1) The Persecuting, Disloyal, and Absurd Tenets of those who affect to call themselves Seceders laid open and refuted, in a letter addressed to the People under the care of the Presbytery of Antrim. Belfast, 1749, (2) Some important Queries humbly and earnestly recommended to the serious consideration of the Protestant Dissenters in the North of Ireland belonging to the Synodical Association, Belfast, 1773.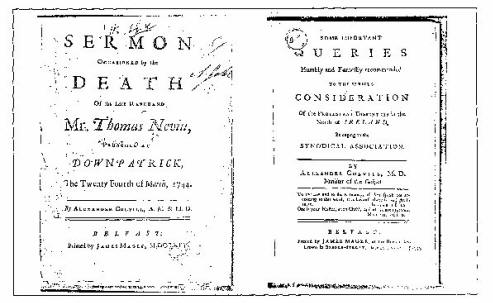 At the outbreak of the rebellion in 1745 Colvill obtained from Lord Chesterfield a commission for raising a Volunteer Corps of which he was Captain with other officers Lt. Wm. Hall and Ensign Richard Foule.
An indication of Alexander Colvill's property interests is obtained from an examination of the Registry of Deeds. A deed of lease dated 10 November 1749 between Colvill and Francis McClelland of Ballynafoy records a letting of 32 acres 3 roods for a term of 2000 years at a clear yearly rent of £9.16.10 stirling. A mortgage deed dated 23rd December 1749 records the sale to William Colvill of the City of Dublin Gent of the upper quarter of the townland of Ballynafoy, containing 132 acres 1 rood for a term of 500 years at a consideration of £315 stirling.
From Colvill's funeral service preached by the Rev. James Bryson, of Lisburn we obtain a cameo sketch and estimation of his character.
"It is well known that he early applied himself to the study of polite and useful learning, and his profiting was quickly known to all. And, to say nothing of the improvements which he made of a liberal education, by much reading, and an extensive acquaintance with men of all ranks and professions; the very greatness of his own spirit, which seemed to render him almost independent of those helps and that severe application by which other men arrive at knowledge, would have rendered him the admiration of the discerning, and the delight of his friends. It is but strict justice to the memory of so great a man to declare, that in strength, boldness and energy of thought, in a rich, clear and comprehensive understanding; and in all the qualities of accuracy in reasoning, readiness of speech, uninterrupted presence of mind and masterly command of his talents, to which these gave birth, he has been but rarely equalled among the sons of men.
His moral temper was strongly marked with the most honourable characters of generosity, sincerity, plain dealing, and integrity. To these he added a fortitude fit to brave the greatest dangers, a constancy not to be subdued by the most unrelenting opposition, and an openness of heart and freedom of speech, through which his whole soul might be perceived at once, on every subject that he thought important. The fear of man never awed him into silence. The hope of being patronized, never betrayed him into the meanness of adulation. His piety was the result of the justest and most worthy sentiments of almighty God; and, like them, was equally removed from the irrational fervors of enthusiasm and the gloomy horrors of superstition.
He loved mankind, and of course he was fond of the society of men: and few have ever combined the talents of pleasing and improving, in a higher degree. He gave life to reasoning, and force to wit. While the strongest imagination and a memory which knew not what it was to fail or to betray, enchanted and delighted; so sound an understanding, so correct a judgement of men and things, could not miss to supply instruction on every subject. He was a stedfast and unshaken friend of civil and religious liberty. His conduct during that most illiberal of all rebellions in the year 1745, is a proof of the former: and as to the latter, it is sufficient to say, that he was from the beginning a fellow-labourer with the immortal Abernethy, Halliday, Bruce, Kirkpatrick, etc. in defence of the religious rights of men and christians. Few men understood this subject better, or were capable of defending it in a more masterly manner.
As to his public character among you; his extensive knowledge of the great principles of natural religion, and his intimate acquaintance with the scriptures, qualified him to discharge his duty in a very useful and honourable manner. In devotion, he was rational, solemn and affecting. In preaching, which he always performed without the aid of papers in the pulpit, he was clear, distinct, and instructive: he delivered himself with dignity and ease; and displayed an astonishing flow of ready, unaffected eloquence, remote alike from the swellings of pomp, and the meanness of familiarity. In expounding the scriptures, he possessed talents which all must envy, but few indeed, need hope to equal. In sum. Doctor Colvill was distinguished through his whole life by a generous contempt of the world, a frank and open heart, a liberal turn of thought, a remarkable command of temper, an active desire to do good, strong social affections, an undaunted courage, and perfect prefence of mind."
Alexander Colvill died of apoplexy on 23rd April 1777 in his 78th year and his will dated 3rd October 1772 refers to a son and five daughters. The daughters were married to: Mr. Isaac Moreland of Tullindony, Mr. William Blackwell of Belfast a cabinet maker, Mr. Dickson of Dromore, Rev. Isaac Patrick, Minister of Magherally, and Mr. Henry Munroe of Tullylish. The latter was the father of the celebrated beauty Dorothea Munroe referred to by Oliver Goldsmith in the Haunch of Venison, and whose portraits by Angelica Kauffman are in the National Gallery, Dublin. A son Alexander Colvill is recorded as a witness in deeds of lease by his father in 1749 but little else is known about him. Colvill's other son Maturine did not long survive him.
LIEUTENANT MATURINE COLVILL
Maturine Colvill, a son of the above - Dr. Alexander Colvill, had emigrated to America, in 1762/3 and disembarked at Charlestown South Carolina. He later acquired plantations and negro slaves in Bladen County, North Carolina and was killed in September 1781 during the American War of Independence. The Tories of Bladen County had been active against the Whigs and Hector McNeill who commanded the Tories was killed at Lindleys Mill on Cane Creek. On his death a commission was sent to Maturine Colvill to take command of the Loyalists in Bladen County, which he accepted. His command was brief as the Dickson letters record "Some of the leading men of the Whig Party in that county and Mr. Colvill having formerly been obnoxious to each other occasioned by some dispute among themselves, and they dreading his courage and intrepidity and the impetuosity of his temper, which some of them very well knew would be fatal to some, as soon as he came to lad his troops, it was so contrived that he was soon taken off by a party who slew him in his own house the morning of the same day in which he was to have headed his loyal troops."
Following Maturine Colvill's death, the quest for the Colvill estate took Patrick Neil, and Joseph Dickson from Dromore to North Carolina. Possession of one of the plantations and some of the slaves was obtained by a Mr. Patrick and his plantation, which rented out in 1786 and the negroes hired for wages produced a combined annual income of one hundred and thirty pounds.
This account of the Colvill's is restricted to the Dromore branch of that family, but the author would welcome any information on their connection with the family of Sir Robert Colvill of Newtownards and William Colvill of Dublin.
BIBLIOGRAPHY
Narrative of the proceedings of Seven General Synods of the Northern Presbyterians in Ireland by Ministers of the Presbytery of Antrim.
Manuscript "Sketches of the History of Presbyterians in Ireland" by William Campbell D.D. of Clonmel 1803.
Historical & Literary Memorials of Presbyterianism in Ireland by Thomas Witherow 2nd series 1880.
A Ramble Through Dromore. John F. Mulligan 1886. Scottish Record Office Document Ref RD4/115,CC8/8/101 Records of The General Synod of Ulster from 1691 to 1820 Belfast 1890.
A Sermon occasioned on the Death of the late Reverend Mr. Thomas Nevin preached at Downpatrick the twenty fourth of March 1744 by Alexander Colvill A.M. & M.D.
Sermons on Several Important Subjects by James Bryson, A.M.
Ulster Journal of Archaeology, Volume V, Volume VI, Second Series.
Dictionary of National Biography.
Belfast Newsletter index to Birth, Marriage and Death Entries, Linenhall Library.
A list of officers in the Several Regiments and Independent Troops of Companies of Militia in Ireland Taken from the books in the secretaries offices Dublin MDCC.LXI.
The Dickson Letters compiled and edited by James O Carr Esq.
Register of Deeds 1730-1745 P.R.O.N.I.
Fasti of the Irish Presbyterian Church by Rev. James McConnell
Reid's History of the Presbyterian Church in Ireland (Killen) 1867
A short History of First Dromore Presbyterian Church 1660-1981.
12/11/2003